The Boone Center for the Family Honors Vin and Sandra Scully at SavvyChic XII
The Boone Center for the Family at Pepperdine University honored the voice of the Dodgers Vin Scully and his wife Sandra Scully for their commitment to family and marriage at SavvyChic XII on Wednesday, November 11 at The Beverly Hilton in Beverly Hills.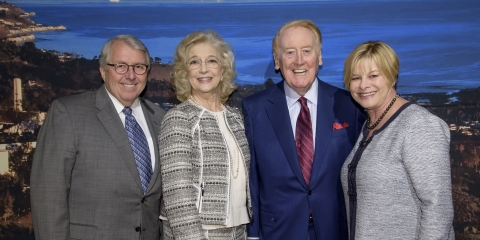 SavvyChic XII, which supports the Boone Center's mission to strengthen and promote healthy relationships and strong families, honored the Scullys with the 2015 Friends of the Family Award.
More than 300 Pepperdine donors, students, faculty, staff and friends of the university attended the event. Pepperdine University president Andrew K. Benton, praised Vin and Sandra, saying, "Dear friends, what a thrill it is for all of us today at this annual gathering for healthy families to salute the values that radiate from you—and through your beautiful and bountiful marriage. Sandi and Vin, in every prism of your very public lives you cast a bright and unceasing light of goodness and hope, validating your love for God, for each other, and for the institution of family."
Upon receiving the award, Vin said, "As far as the family is concerned, God has been so good, so great, so merciful that the one thing Sandi and I say everyday is how fortunate we have been to have had our children, to have see them grow, to have seen them move on to have their children, and to still be here able to watch it."
Highlights of the event included an eco-couture fashion show featuring designs by Prophetik by Jeff Garner (Seaver alumnus, '00) and a children's fashion show by Riginals, a children's clothing boutique based in Century City. Also featured were a raffle and silent auction featuring items such as a three-night stay in a privately-owned Swiss chalet, a four-night stay in a privately-owned condo in Mammoth Lakes, two-night stays at The Beverly Hilton and Montage Beverly Hills, Disneyland Park Hopper tickets, jewelry, spa services, restaurant gift certificates, and much more.
A single live auction item, a meet and greet package with Dodger broadcaster Vin Scully, received a final bid of $10,000. The VIP day for four at Dodger Stadium included photos and autographs with Vin, a behind-the-scenes tour of Dodger Stadium, four MVP Field Level tickets, and a preferred parking pass.
Ten local and luxe vendors offered guest boutique shopping with twenty-five percent of all sales benefiting the Boone Center. Brenda Cooper, Emmy Award-winning costume designer, served as the mistress of ceremonies.
Presented by the Friends of the Family League, the event supports the Boone Center's mission to strengthen and promote healthy relationships and strong families.
For more information about the Boone Center for the Family or to donate please visit savvychic.org.