Pepperdine's Boone Center for the Family to Develop Moral Knowledge Programming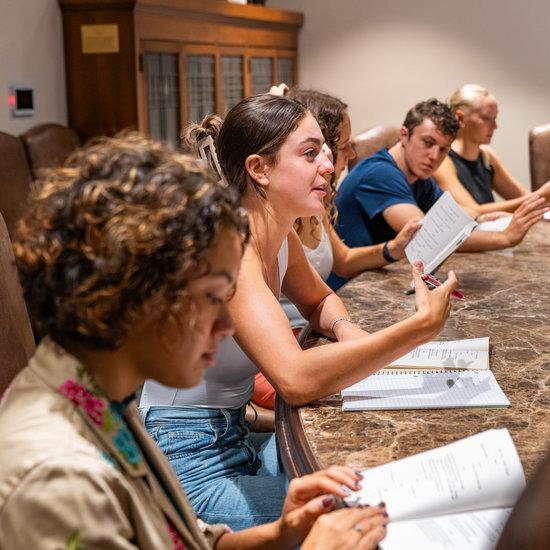 Is moral knowledge deteriorating within our culture? Does society still carry in high esteem that which is true, good, and beautiful? Is absolute truth a relevant topic anymore?
These and other far-reaching philosophical questions are what Pepperdine University's Boone Center for the Family will investigate in collaboration with Seaver College faculty members to develop specific programming about moral knowledge. Leaders at the Boone Center for the Family are currently designing a program centered around questions of morality and aesthetics in partnership with faculty members who are passionate about this subject. The goal is to sponsor an event where students and scholars can come together to investigate the pressing moral and philosophical questions of our time.
"We want to build connections and work through challenges and differences amongst people, while still getting to the heart of these issues," says Kelly Haer, executive director of the Boone Center for the Family. "The absence of moral knowledge seems especially polarizing today, as we've lost common ground and a shared sense of reality."
The concept of moral knowledge was popularized by Dallas Willard, former professor of philosophy at the University of Southern California, whose final book, The Disappearance of Moral Knowledge, defined the concept of moral knowledge as a science of ethics which stems from the Bible and Christ's teachings. These ethical principles draw a clear line between good and evil, right and wrong, and they helped inform society's ideas about morality for much of history. But over time, many believe that this concept of moral knowledge has atrophied.
"Sources of knowledge like authority, reason, and science have deteriorated," says Garrett Pendergraft, the Blanche E. Seaver Professor of Philosophy at Seaver College. "As a result, there is less of a shared consensus on spiritual and moral issues."
Pendergraft, Haer, and Dee Dee Mayer, the director of Pepperdine's RelateStrong program, recently explored the current status of moral knowledge with other scholars and administrators at Westmont College's colloquium, the Disappearance of Moral Knowledge. Here, academics gathered to discuss and dissect the works of Willard and German philosopher Dietrich von Hildebrand, who also wrote about moral knowledge. Inspired by this event, Pendergraft, Haer, and Mayer are developing a similar conference at Pepperdine.
"As a part of Pepperdine's Christian mission and pursuit of truth, we think it is a natural fit to talk about what is actually good, true, and beautiful," says Haer.