Business and Life Coach Jeff Miller to Present Webinar on Using an MBA to Build a Career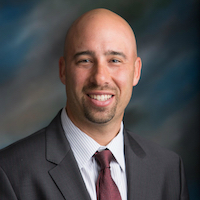 Jeff Miller (MBA '15), Pepperdine Graziadio Business alumnus and professional certified coach, will present the webinar Creating Your Future Now on Thursday, August 6, at noon PDT. Through this digital conversation, Miller will share insights and strategies on how students can position themselves in the marketplace and use their MBA degrees to establish their careers.
Discovering his love for all sports at a very young age, Miller played tennis in college until advancing to the professional level and joining the Association of Tennis Professionals Tour. Traveling around the world for tournaments and experiencing the cultures and lifestyles outside of California taught Miller invaluable life lessons, including the realization that winning is not just the end goal of a sporting event. Upon the completion of the tour, Miller began coaching tennis in prestigious country clubs, where he also found himself coaching clients on the tools to succeed in life. In addition to earning his MBA, Miller is a graduate of the renowned leadership and coaching program offered by Accomplishment Coaching.
For additional information about this webinar, visit the events page on the Graziadio Business School website.