Business School Launches Program for Seasoned Leaders Seeking a Life of Joy and Impact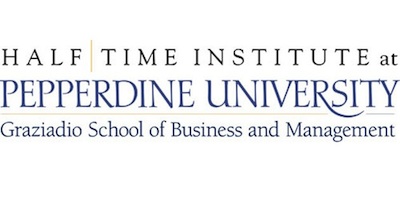 Pepperdine's Graziadio School of Business and Management, in collaboration with the Halftime Institute, introduces the Certificate for Second Half Significance. Based on Bob Buford's best selling book, Halftime, this program is designed to help high-capacity leaders move from success to significance by living a life with greater joy and impact. The goal is for Halftime participants to discover the purpose of their second half of life and get engaged in issues they care deeply about. Halftimers will address tough questions, craft a mission, rearrange commitments, and engage with those they love on a whole new level.
"Halftime is for successful people who want more fulfillment in their lives and realize it won't come from the next victory, the next sale, the next conquest or significant increase in their bottom line."—Ken Blanchard, co-author, The One Minute Manager
The duration of the Graziadio School's Halftime certificate program is one year. It includes executive coaching, monthly cohort calls, and a three-day kickoff workshop at the Villa Graziadio Executive Center, April 29 – May 1, 2015.
Additional features:
Peer collaboration: Halftimers will join a small group of marketplace leaders pursuing God's call in its next chapters. In stimulating give and take – individually, with others and with their executive coach – Halftimers move into productive self-discovery and, as needed, a new means to make life-changing decisions.
A head and heart approach: This season of life requires time, space and guidance for Halftimers to grasp how God has uniquely made and shaped them to love Him and serve others. Drawing on tried and true concepts, key influencers and decades of study and best practices, Halftimers will listen and learn, reflect and renew, and begin to design a road map of personal next steps.
One-on-one executive coaching: True changes come with others over time. For a full year, in addition to regular team discussions, Halftimers will meet regularly with their certified Halftime Institute coach.
Halftime talent solutions: As Halftimers identify their skills and interests, Halftime talent solutions can guide them to the key leaders and organizations in the marketplace, at Christian nonprofits, in social entrepreneurial projects, and in the local church or para-church ministries.
Private meetings and special events: Halftimers are also invited to exclusive special events sponsored by the Graziadio School and the Halftime Institute, featuring leading thinkers and authors such as Jim Collins and Ken and Margie Blanchard.
Here's what just a couple of Halftime graduates have to say about their experience:
"The appetite for significance is at an all time high, yet most people have no idea where or how to identify their gifts and talent—and to connect to their passions. And that's my love for Halftime. Nothing satisfies more than to help a man or woman say, 'This is what God has for me to do."'—Dean Niewolny, Class of 2008
"I was able to serve and love my kids and help my husband in more ways than I ever could before. Life became more satisfying even with less income and career prestige." —Paula Dumas, Class of 2000
For more information about the Graziadio School's Halftime certificate program, including cost and how to register, visit the Halftime Institute or contact Rhonda Kehlbeck, director for global engagement, at (972) 841-7952 or rhonda@halftime.org.