California Deputy Controller Nicole Winger to Lead Davenport Discussion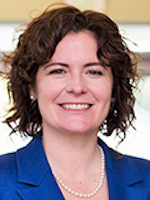 Nicole Winger, deputy controller for public affairs for California's chief financial officer and state controller, will lead the School of Public PolicyDavenport Discussion roundtable seminar at Drescher Graduate Campus in Malibu on Thursday, March 30, at noon.
In her current role, Winger directs communications across multiple platforms while managing media relations, constituent services, community education, and high-profile initiatives.
With policy expertise in government operations, elections, education, corrections, and healthcare, Winger was a senior advisor to the California secretary of state, the state superintendent of public instruction, and leaders in both houses of Congress.
As a consultant at one of California's largest lobbying and public relations firms, she worked with clients in biotechnology, banking, and energy industries. She also has served as a subject matter expert for news media and academia, and held leadership positions in nonprofit organizations dedicated to women's equality.
A lifelong Californian, Winger earned a bachelor's degree in political science from Whittier College, and studied European governments and sociology at the University of Copenhagen in Denmark.
For additional information about the event, visit the School of Public Policy website.