Caruso School of Law Dean's Speaker Series to Honor Martin Luther King Day with Interfaith Discussion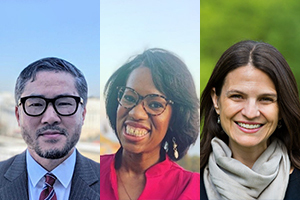 The Caruso School of Law Dean's Speaker Series will present a virtual event, Honoring Dr. Martin Luther King Day: The Intersection of Faith, Social Justice, and Racial Reconciliation, on Tuesday, January 26, at 12:45 PM PST. Eugene E. Cho, president and chief executive officer of Bread for the World and Bread Institute, and Sharon Brous, founder and senior rabbi of IKAR Jewish congregation, will lead the discussion. Chalak Richards (JD '12), assistant dean of student life, diversity, and belonging and director of the Parris Institute for Professional Excellence at Caruso Law, will moderate the event.
Richards, who hopes that this event will challenge and inspire the University community to think about the personal spiritual transformation needed to bring justice to the world, notes that the phrase "social justice" has been portrayed as an opposing philosophy to a Christian or other faith-based worldview. However, she believes that addressing the needs of our communities from a place of faith, rather than separate from our faith, can bring healing to a world in pain.
"People of faith have moral and spiritual imperatives to lead the charge for justice in society. This is more important than ever with the current ongoing racial and social unrest," explains Richards. "We see that society is looking for ways to build together and bring about justice in real, systemic ways. People of faith have historically been at the forefront of this work and should continue to do so."
The alumna shares that the inspiration behind organizing this event was witnessing the nationwide unrest last summer following the killing of George Floyd. Exploring the impact of an interfaith conversation on social justice led Richards to Cho, the author behind Thou Shalt Not Be a Jerk: A Christian's Guide to Engaging Politics and Overrated: Are We More in Love with the Idea of Changing the World Than Actually Changing the World? Working alongside colleagues who attend IKAR in Los Angeles, Richards also became familiar with Brous and her efforts in promoting social justice.
"This seemed like the perfect event to celebrate Martin Luther King Day and the civil rights movement in the United States, as Christians and Jewish practitioners have partnered to lead the movement together," she says.
This event is sponsored by the Herbert and Elinor Nootbaar Institute on Law, Religion, and Ethics. For additional information, and to register to attend, visit the event's registration website.