Caruso School of Law Introduces Real Estate Investment Research Course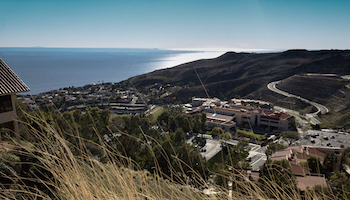 In fall 2021, the Palmer Center for Entrepreneurship and the Law at the Caruso School of Law will introduce Multistate Real Estate Survey, a course designed to provide research for the compilation of a multistate ranked survey of real estate investment desirability in the United States. The goal of the course is to create and publish an annual multistate survey based on laws, regulations, and economic data that impact real estate investment in a wide variety of asset classes. Barry D. Kaye and Missy L. Griffin (JD' 18), adjunct professors of law at Caruso Law, will teach the course, supervise student research, and compile the survey.
Caruso Law students will conduct the primary research and direct interviews with leaders in the real estate field nationwide. The course will provide students with critical experience and knowledge about laws impacting real estate investment in the United States, including land use, development, taxation, finance, contract relationships, and operations. The data-driven survey will yield powerful insights and will provide real estate professionals with essential information to guide investment decisions nationwide.
As a vital part of Caruso Law, the Palmer Center is a leading institution in training law student fellows in strategic business and entrepreneurial skills. Providing this research from a law school with a recognized focus on real estate is of particular value to the survey, which will apply both economic and legal regulatory data in its rankings. The data generated will be evaluated and published utilizing select investment metrics as a resource to real estate industry professionals, including developers, investors, operators, lenders, law firms, and brokers.
In addition to his real estate and corporate law practice, Kaye has taught at USC Gould School of Law since 2017, is an arbitrator for the Financial Industry Regulatory Authority (FINRA), and is a mediator for the California Court of Appeal, Fourth Appellate District.
Griffin is an associate with Gibbs Giden, a leading construction and real estate law firm in California. She is also a former Palmer Center student chair. Prior to becoming an attorney, Griffin worked in operations for a national leading multifamily residential company with assets in five states on the West Coast and served in various positions with the largest owner and operator of more than 12 million square feet of premium showroom and exhibition space serving home furnishings.
A steering committee of co-founders will support the launch, direction, and outreach of the academic research and the publication of the annual survey. The committee is composed of Alan T. Nissel, faculty director of the Palmer Center and principal of Wilshire Skyline; David Feingold, executive director of the Palmer Center; Nicolas Kublicki (JD '92), adjunct professor of law at Caruso Law and principal of Kublicki Properties; and Anne Keshen, a national real estate and tech investor, attorney, adjunct professor in real estate investments at Graziadio Business School, and a member of the Pepperdine University Board of Directors.
An advisory board of leading real estate industry professionals, including legal and data analytics experts, will be formed to advise on the compilation, dissemination, and future course of the survey.
For questions regarding this new research course, contact Kaye or Griffin for additional information.