Caruso School of Law Partners with Anti-Human Trafficking Nonprofit Organization Willow International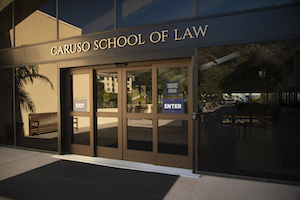 The Sudreau Global Justice Institute (SGJI) at Pepperdine Caruso School of Law has partnered with Willow International, an anti-trafficking organization based in Uganda. In May of 2021 the two organizations signed a five-year memorandum of understanding to leverage one another's strengths to further advance justice for victims of human trafficking.
"We are delighted to formalize the partnership between Pepperdine and Willow International at this critical time," said Cameron McCollum (JD '17), director of SGJI. "Working together, we will catalyze the fight for justice for trafficking victims in Uganda and beyond as we look to expand our reach around the world in the years to come."
Each year, two students enrolled at Caruso School of Law are selected to participate in Willow International's internship program in Kampala, Uganda, where they obtain hands-on experience assisting with advocacy for Willow International's clients. Upon co-hosting two anti-trafficking conferences in Uganda, SGJI and Willow International have thus far trained more than 300 Ugandan officials. By formalizing their partnership, the organizations plan to expand the scope of their work together.
Kelsey Morgan, founder of Willow International, welcomes the sharing of resources that this expanded partnership will make possible. "Five years ago, Pepperdine opened up the door for us to begin advocating for a stronger justice system response to trafficking in Uganda. Since then, we've seen remarkable transformation taking place," she shared. "This new opportunity to work with Pepperdine's accomplished academics and experts is a critical element in our shared strategic vision for fighting for justice and empowering survivors."
For additional information regarding SGJI, visit the Caruso School of Law website.