Caruso School of Law Ranked Number 46 in U.S. News & World Report 2022 Best Law School Rankings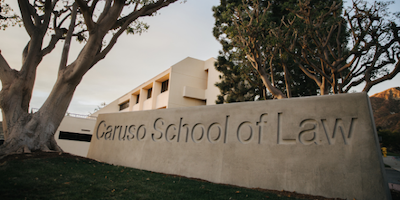 The Pepperdine University Rick J. Caruso School of Law has been ranked number 46 in the nation in the U.S. News & World Report (USNWR) 2022 Best Law School rankings. For the second consecutive year, Caruso Law has earned its highest ranking in the history of the school, having been ranked number 47 last year after climbing 25 spots in just three years.
"As hope grows for a return to on-campus operations after a very challenging year, the news of this ranking is a welcome complement," said Paul Caron, Duane and Kelly Roberts Dean of Caruso Law. "We are pleased to be counted among the nation's top 50 law schools, a result that reflects the outstanding work of our students, faculty, and staff."
Caruso Law has also been recognized by its peers in all 13 specialty program rankings, with four in the top 50, including number 3 in dispute resolution, number 36 in trial advocacy, number 39 in tax law, and number 49 in international law. The globally recognized Straus Institute for Dispute Resolution has been among the top three in the specialty rankings for nearly 20 years.
The USNWR 2022 Best Law School rankings include 193 law schools fully accredited by the American Bar Association. Ranking criteria include a weighted average of 21 measures including student selectivity, bar passage, and job placement; quality assessments by academic peers, lawyers, and judges; and resources devoted to the school's academic program. Specialty program rankings are based on data collected from faculty in each specialty who are asked to rate their peer schools' programs on a scale of one to five.