The Cat in the Hat Live Performances Coming to Smothers Theater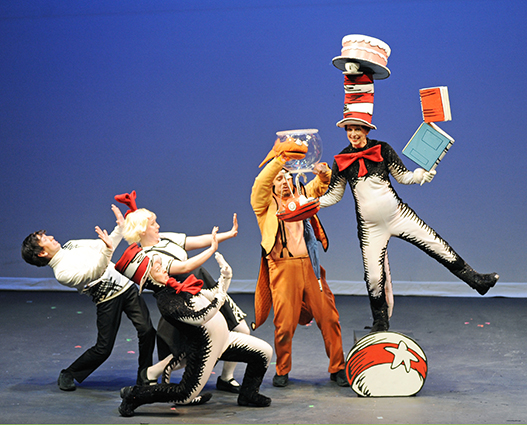 Dr. Seuss' beloved children's storybook TheCat in the Hat comes to life at Pepperdine University's Smothers Theatre in Malibu on Saturday, January 23, at 11 AM and 1 PM.
Based on the popular literary tale, the moment his oversized, red and white striped hat appears at their door, Sally and her brother know that the Cat in the Hat is the most mischievous cat they will ever meet, and their rainy afternoon is transformed by the Cat and his antics.
Attending guests can also enjoy Family Art Day activities hosted by the university from 10 AM to 1 PM. This free event is open to the public and features hands-on art projects, backstage tours, as well as tours of the Frederick R. Weisman Museum on campus.
These live performances are presented jointly by the Lisa Smith Wengler Center for the Arts and Childsplay, a nationally and internationally respected professional theater company whose chosen audience is children. Founded in 1977, Childsplay believes that young people deserve to experience challenging, thought-provoking theatre of the highest artistic quality. Over the past 36 years, Childsplay has educated and inspired more than four million young people and families.
For additional information about Pepperdine University's The Cat in the Hat production, and to reserve tickets, visit the Center for the Arts website.