Center for the Arts to Present Jessica Lang Dance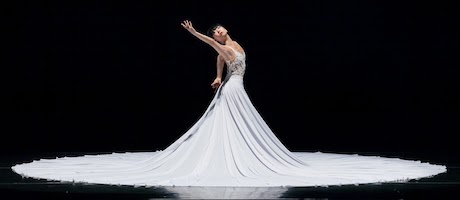 Renowned dance company Jessica Lang Dance willperform the creative and inspiring work of award-winning choreographer Jessica Lang (JLD) at Smothers Theatre in Malibu on Tuesday, March 5, at 8 PM.
As announced in November 2018, JLD will disband on April 30, which is the end of its 19-city, 2018–19 season. JLD's Pepperdine show marks the company's final California performance.
Founded in 2011, JLD is a New York City-based dance company whose mission is to enrich and inspire global audiences by immersing them in the beauty of movement and music.JLD's diverse repertoire of original works, created by award-winning Artistic Director and choreographer Jessica Lang, demonstrates a commitment to artistic collaboration and a style that resists categorical definition. Hailed as "a master of visual composition" by Dance Magazine, Lang seamlessly incorporates striking design elements and transforms classical ballet language into artfully crafted, emotionally engaging works that feature gifted, graceful, and athletic performers.
The company has performed their repertoire of 25 unique works for audiences nationally and internationally in over 75 cities, 35 states, and seven different countries. They have been featured at premier venues and festivals worldwide including Lincoln Center's White Light Festival, Jacob's Pillow Dance Festival, Brooklyn Academy of Music's Next Wave Festival, New York City Center's Fall for Dance Festival, the John F. Kennedy Center for the Performing Arts, the Joyce Theater, the Harris Theater for Music and Dance, The Music Center, Winspear Opera House, Tel Aviv Performing Arts Center, Helikon Opera, and Palacio de Bellas Artes, among others.
JLD is committed to engaging and empowering minds of all ages and populations with its Education and Outreach programming. Its unique curriculum called LANGuage emphasizes creative thinking and serves a wide variety of communities in addition to dance students and pre-professionals, including underserved children, special education youth, senior citizens, and veterans.
JLD has received numerous grants and funding from organizations including The New York Community Trust, Howard Gilman Foundation, Virginia B. Toulmin Foundation, Rockefeller Brothers Fund, the National Endowment for the Arts, New York State Council on the Arts with the support of Governor Andrew M. Cuomo and the New York State Legislature, The SHS Foundation, The Shubert Foundation, the Jerome Robbins Foundation, the Irving Harris Foundation, the O'Donnell-Green Music and Dance Foundation, the New York City Department of Cultural Affairs, Harkness Foundation for Dance, Dance/NYC and the ArtsCONNECT program of Mid Atlantic Arts Foundation.
As artistic director of JLD, Lang leads the creative vision of the organization which has garnered remarkable acclaim since the company's founding in 2011. Under her artistic leadership, the company now offers more than 50 performances annually at some of the world's most prestigious performing arts centers. Noted for her dedication to educational activities, Lang developed a unique curriculum for JLD called LANGuage, which is offered as part of the company's programming on tour and locally in New York City, focusing on the Queens community.
As one of the most celebrated choreographers of her generation, Lang choreographs and teaches throughout the world. She has created original works for companies including Alvin Ailey American Dance Theater, American Ballet Theatre, Pacific Northwest Ballet, Birmingham Royal Ballet, the National Ballet of Japan, and Joffrey, among many others. Lang has also worked in opera on the production Aida, directed by Francesca Zambello, for San Francisco Opera and Washington National Opera. She is the recipient of a 2014 Bessie Award and the 2017 Arison Award.
Lang grew up in Bucks County, Pennsylvania, and has a diverse dance training background. She is a graduate of the Juilliard School under the direction of Benjamin Harkarvy and a former member of Twyla Tharp's company THARP!
Ticket prices range between $10 and $50 and are required for attendance. For additional information about the performance, visit the Center for the Arts website.