Center for the Arts to Present LIV ON Concert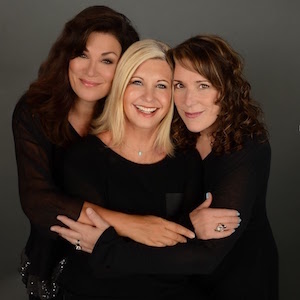 International superstar and multiple Grammy Award winner Olivia Newton-John, Grammy nominee Beth Nielsen Chapman, and SOCAN Award winner Amy Sky will come to Pepperdine University's Smothers Theatre in Malibu on Thursday, October 26, at 8 PM.
Newton-John, Chapman, and Sky have an amazing gift for storytelling. Together, they share their individual and collaborative journeys in a magical event where they perform 11 newly recorded songs from their new album, LIV ON. In this one-of-a-kind performance, the audience will walk the paths of joy, laughter, and inspiration, finding amazement at the kinship generated by the experience. In addition to performing songs from this new album, Newton-John, Chapman, and Sky will perform together on some of each other's best-known hits.
This inspiring new project grew out of the three artists' personal experiences with loss and illness, which they all survived to "LIV ON" and celebrate each day with a depth of gratitude. This labor of love stemmed from the trio sharing their stories together and expressing their deepest feelings from the most difficult to the most celebratory, with the hope that the music can uplift hearts burdened by grief while at the same time comforting listeners.
"As a group, it's our intention to create songs with a message of compassion and hope," said Newton-John. "They are for anyone facing a time of challenge in their life, whether it is grieving a loss—or on the journey to health and recovery."
Newton-John's appeal seems to be timeless. She sold out her acclaimed "Summer Nights" concert residency at Flamingo Las Vegas through December 2016, with a portion of every ticket sold going to benefit the Wellness Programs at the ONJCWRC. Still extremely busy in the recording studio, Newton-John recently released two projects back to back and has starred in many television projects, including appearing as herself in two episodes of the hit series Glee, adding another Top 100 hit to her credits with a new version of "Physical" sung with Jane Lynch. In October 2010 Newton-John starred in the breast cancer docudrama 1 A Minute and the Canadian film Score: A Hockey Musical.
Her 2012 film, A Few Best Men, garnered her some of the best reviews of her film career. Newton-John released her second book, LivWise: Easy Recipes For A Healthy, Happy Life in Australia in 2011. In LivWise, Newton-John explains her belief in the importance of eating a healthy diet in order to maintain wellness and balance. In 2012 Newton-John was bestowed the honor of being named one of Australia's "National Living Treasures" by the National Trust of Australia. This was followed by another honor in 2013 when Newton-John was bestowed her owns stamp as part of the "Australia Post Legends" stamp series.
From writing hits for other artists to recording her own, twice Grammy-nominated Nashville-based hit songwriter and recording artist Chapman has had an amazing journey. Chapman is a breast cancer survivor, environmental activist, teacher of workshops, and self-described "creativity whisperer." The newest member of the Songwriter's Hall of Fame, Chapman has penned numerous hits and written songs for many top artists including Bonnie Raitt, Emmylou Harris, Bette Midler, Elton John, Neil Diamond, Trisha Yearwood, Martina McBride, Michael McDonald, Amy Grant, Keb Mo', Roberta Flack, Waylon Jennings, Faith Hill, Willie Nelson, Bette LaVette, and many more.
Her music has been heard on ER, Dawson's Creek, Providence, Felicity, and in movie soundtracks, including The Prince of Egypt, Message In A Bottle, The Rookie, Where The Heart Is, and Practical Magic. Mega-hit "This Kiss," sung by Faith Hill, was ASCAP'S 1999 Song Of The Year, garnered a Grammy nomination and Chapman was Nashville NAMMY'S 1999 Songwriter of the Year. Among Chapman's own recordings, the groundbreaking "Sand & Water," released following the death of her husband from cancer in 1994, was performed by Elton John on his 1997 US tour in place of "Candle In The Wind" to honor the memory of Princess Diana.
Toronto-born Sky is an award-winning singer- songwriter with 12 solo CDs to her credit. Well-known for using real-life experiences in her songwriting, Sky's music has created a lasting and indelible impact on fans. Her 10 solo CDs have spawned a string of chart-topping hits. A prolific and multi-talented artist, Sky has for written herself and for dozens of other international recording stars, such as Anne Murray, Reba McEntire, Diana Ross, Aaron Neville, and Heart.
Winner of three SOCAN awards and an American Songwriting Award, Sky has also been nominated for three Juno Awards (Best New Artist and twice for Best Songwriter). She has also been nominated for East Coast, West Coast, and Canadian Independent Music Awards. In addition to her music awards, she has also been recognized for her work as a mental health advocate. In 2006, Sky was awarded the CAMH Courage to Come Back award and in 2009 she was honored with the Mood Disorders Association Hero/Inspiration Award for her commitment to helping remove the stigma from mental health issues.
Ticket prices range between $40 and $65, and are required for attendance.
For additional information about the performance, and to purchase tickets, visit the Center for the Arts website.