Center for the Arts to Present Musical Performance Take Me to the River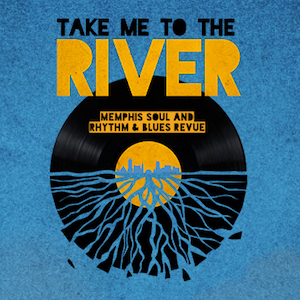 A live concert journey through the soul of American music with artists featured in the documentary film Take Me to the River will come to Pepperdine University's Smothers Theatre in Malibu on Sunday, October 8, at 7 PM.
Celebrating the intergenerational and interracial musical influence of Memphis in the face of pervasive discrimination and segregation, this historic show will feature a once-in-a-lifetime chance to see legends William Bell (2017 Grammy winner), Bobby Rush (2017 Grammy winner), and Charlie Musselwhite (2014 Grammy winner) share the stage and perform the classics with the all-star Hi Rhythm Section, The Stax Academy Alumni Band, and Grammy award-winner Boo Mitchell, with special appearances from Academy Winner Frayser Boy and Critics Choice Award winner Al Kapone.
This live performance experience is based on the award-winning film and record that brought together multiple generations of iconic Memphis and Mississippi Delta musicians to record a historic new album and re-imagine the utopia of racial, gender, and generational collaboration of Memphis (Stax, High records) in its heyday. The philosophy behind the show is that the power of positive expression—through music, film, or other art forms—leads to a permanent foundation of community, and strives to bring together those from all political, racial, and generational backgrounds to communicate, cooperate, collaborate, and create together as a community.
Rush is a blues musician, composer, and singer. His style incorporates elements of blues, funk, and rap. Born in Homer, Louisiana, he moved with his family to Arkansas, where he formed a band with Elmore James. In the 1970s his song "Chicken Heads," which he wrote as well as sang, made it to the R&B charts. He next recorded his first album, Rush Hour, with one track, "I Wanna Do the Do" also charting in 1979. In the early 1980s, Rush moved to Jackson, Mississippi, where he recorded a series of records for various labels, including his own Deep Rush label. FolkFunk (2004) was a return to rootsier sound, featuring guitarist Alvin Youngblood Hart.
Rush received recognition for his music after the release of his 22nd album, Rush, when he was awarded Best Male Soul Blues Artist at the Blues Music Awards. He also won Best Acoustic Artist and Best Acoustic Album for his album Raw. His album, Hoochie Mama, was nominated for a Grammy in the Blues Music Section in 2000. In 2013 Rush was nominated for a Blues Music Award in the Soul Blues Male Artist category. In 2014 Rush's album Down In Louisiana, won a Blues Music Award in the Soul Blues Album of the Year category.
Mississippi-born Musselwhite is an electric blues harmonica player, singer, and bandleader, and one of the most revered musicians in the world. He has won countless awards during his career including induction into the Blues Hall of Fame and collaborated with innumerable musical giants of the past 50 years, including John Lee Hooker, Howlin' Wolf, Muddy Waters, Big Joe Williams, Little Walter, Sonny Boy Williamson, Tom Waits, Eddie Vedder, to name to name a few.
Musselwhite has received 10 Grammy nominations, winning for Get Up! (2013, released by the recently revived Stax label), a collaboration with Ben Harper. He has also won 14 W.C. Handy Awards, 27 Blues Music Awards, as well as Lifetime Achievement Awards from the Monterey Blues Festival, among many other honors. He was inducted into the Blues Hall of Fame in 2010. Over the years, Musselwhite has branched out in style. His 1999 recording, Continental Drifter, is accompanied by Cuarteto Patria, from Cuba's Santiago region, the Cuban music analog of the Mississippi Delta. For the first half of 2011, Musselwhite toured with the acoustic-electric blues band Hot Tuna. In the latter half of 2011, he went on tour with Cyndi Lauper.
Soul singer, songwriter and producer Bell was instrumental in shaping the sound of Stax Records. Bell recorded his first sides as a member of the group the Del Rios. In 1961 he made his solo recording debut with the classic single, "You Don't Miss Your Water," which became one of the fledgling label's first major hits. Bell released his first full-length album in 1967, the classic The Soul of a Bell, which included the Top 20 hit single, "Everybody Loves a Winner." That same year, blues great Albert King recorded what came to be his signature tune, "Born Under a Bad Sign," also written by Bell, which has since become one of the most-recorded blues songs. Among his other classic hits at Stax were "Any Other Way," "Never Like This Before," "A Tribute to a King," "I Forgot to be Your Lover," his internationally-acclaimed duet with Judy Clay, "Private Number," and the perennial Christmas music favorite, "Every Day Will Be Like a Holiday."
As a performer, Bell is probably best known for 1961's "You Don't Miss Your Water" (covered by The Byrds and Taj Mahal); 1968's "Private Number," and "Tryin' to Love Two," Bell's only US Top 40 hit, which also hit number one on the R&B charts. As a songwriter, Bell coauthored the Chuck Jackson hit "Any Other Way" (a cover of Bell's original recording), "I Forgot to Be Your Lover" (covered by Billy Idol in his 1986 hit "To Be a Lover"). It has since been sampled by Ludacris (on "Growing Pains") and Jaheim on "Put That Woman First"), among many other artists.
This performance is sponsored by the Flamminio Family.
Ticket prices range between $10 and $45, and are required for attendance. For additional information about the performance, and to purchase tickets, visit the Center for the Arts website.