Center for the Arts to Present Vitaly: An Evening of Wonders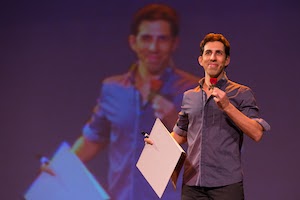 World class illusionist Vitaly Beckman willbring his signature brand of magic to Pepperdine University's Smothers Theatre in Malibu on Friday, April 12, at 7:30 PM.
Master illusionist Vitaly has mystified fans from all over the world, including Las Vegas superstars Penn & Teller, whom he has successfully fooled in their hit TV show, Fool Us. From bringing pictures and drawings to life to erasing people from their own driver's licenses, Vitaly's signature illusions leaves even the most jaded audience awestruck and many of his audience coming back to re-experience his jaw-dropping feats.
Reputed as "one of the most captivating and enjoyable illusionists performing in the world today" (Chilliwack Progress), Vitaly breathes innovation and artistry into the field of magic. He has the distinction of having invented and designed all of his illusions, treating spectators to a theatrical entertainment not seen anywhere else in the world.
Not only do they witness the elegant rendering of the impossible, they are also charmed by Vitaly's engaging personality and genuine desire to partake in his amazing acts.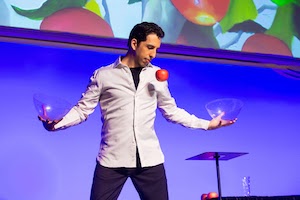 Now based in Vancouver, Vitaly has garnered rave reviews and has appeared on CBC, the Vancouver Sun and The Province, which has crowned him "the master of his own magical domain." He continues to amaze people all over the world.
Vitaly was 14 when he discovered his passion for magic. Soon he was developing his own material, entertaining his friends and family. Years later, he would abandon a career in engineering to focus on rebuilding people's childlike sense of wonder and bridging the gap between dreams and reality.
Combining breathtaking visuals with Vitaly's captivating style, An Evening of Wonders is an interactive theatrical experience that takes the audience on a magical journey. Along the way, Vitaly blends art and illusion to illustrate the story of his transformation from a boy with a dream to a man with a vision—the vision of a world where the rules of reality do not exist. In this world paintings spring to life, photographs become mini-movies, and audience members see their faces vanish from their own driver's licenses. Even time itself reverses as bare broken branches visibly repair and renew themselves with the green leaves of spring.
Featuring some of the most original illusions ever witnessed—many of which touch on tender topics such as love, loss, and growing old—Vitaly's An Evening of Wonders does more than entertain. It moves, inspires, and instills within all who experience it a fresh perspective on life and a greater realization that ours is a world of beauty and wonder.
Ticket prices range between $10 and $40 and are required for attendance. For additional information about this event, visit the Center for the Arts website.