Center for the Arts Presents Pilobolus Dance Troupe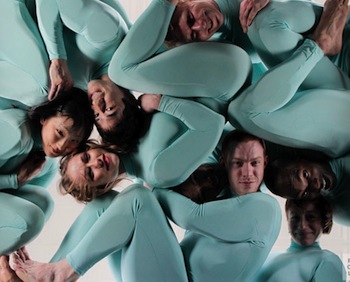 Combining gymnastics, weight sharing, pop dance, and performance art in a delightfully whimsical human circus, the innovative award-winning dance troupe Pilobolus will take the Smothers Theatre stage in Malibu on Wednesday, Mar. 25, at 8 p.m. The company will perform five pieces: On The Nature Of Things, Skyscrapers, Automaton,The Inconsistent Pedaler, and Sweet Purgatory. Learn more about the performances on the Center for the Arts website.
Tickets, priced starting at $25 for adults and $10 for full-time Pepperdine students, are available now by calling (310) 506-4522 or on the Center for the Arts website.
Founded in 1971 and based in Washington Depot, Conn., Pilobolus is a modern performance company that to this day wears its revolutionary stripes on its sleeves. In keeping with its fundamentally collective creative process, Pilobolus Dance Theatre curates and convenes groups of diverse artists to make inventive, athletic, witty, and collaborative performance works on stage and screen using the human body as a medium for expression.
Pilobolus makes art to build community. It teaches its group-based creative process to performers and non-dancers alike through popular, unique educational projects and programs. This collection of activities is called the Pilobolus Institute. Pilobolus also applies its method of creative invention to a wide range of movement services for film, advertising, publishing, commercial clients, and corporate events. This division is called Pilobolus Creative Services.
Pilobolus Dance Theatre performs for stage, television, and online audiences all over the world. Pilobolus has been featured across the world at the 79th Annual Academy Awards (2007), and on Sesame Street, Oprah, 60 Minutes, and Late Night with Conan O'Brien. It has been recognized with prestigious honors, such as the Berlin Critic's Prize, the Scotsman Award, the Brandeis Award, a Primetime Emmy Award for Outstanding Achievement in Cultural Programming, the Samuel H. Scripps American Dance Festival Award for Lifetime Achievement in Choreography, and a TED Fellowship for presenting at the TED conference in 2005. Pilobolus holds the 2011 Guinness World Record for fitting the most people into a Mini Cooper (26); and in 2012, the company was nominated for a Grammy Award for its interactive music video collaboration with OK Go and Google Chrome Japan, "All is Not Lost."
In 2010 Pilobolus was honored as the first collective to receive the Dance Magazine Award, which recognizes artists who have made lasting contributions to the field. Pilobolus works also appear in the repertories of major American and European dance companies.
In 2005 Pilobolus transferred its archive to Dartmouth College, where the company originated. Since then the college has been growing the "living archive" with a series of new-work commissions.
In keeping with the energy and spirit of its biological namesake--a phototropic fungus that thrives in farmyards--the company has continued to grow toward the light, expanding and refining its unique methods of collective creative production to assemble a repertoire of over 100 choreographic works.