Center for Women in Leadership Hosts Outreach Conference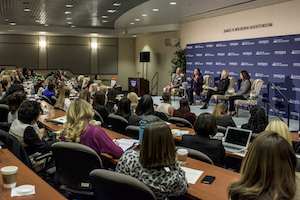 On February 13, Pepperdine Graziadio School of Business and Management and the Center for Women in Leadership hosted the Women in Leadership Reachout Conference in Malibu. The conference was presented in partnership with C200, a highly acclaimed international women's executive leadership organization.
"The conference brought C-suite level women to our campus to share real-life stories of making it to the top and thriving once you get there. Audience members were given a once-in-a-lifetime opportunity to learn from some of the top women executives in the nation," said Bernice Ledbetter, director of the Center for Women in Leadership and professor at the Graziadio School.
"The remarkable partnership with C200 supports our goal to encourage women students and alumnae to lead with confidence and vision. We are honored that C200 has chosen three outstanding women MBA students as recipients of $10,000 scholarships to support their development to become best for the world women leaders."
The scholarships were awarded to the following Graziadio School students:
Jahnai Bilovsky (Fully Employed MBA)
Regina Ford (Online MBA)
Breanna Stott (Executive MBA)
The day's events included discussion panels focusing on helping women in the workforce achieve success, and highlighted topics such as work/life balance, navigating male dominant fields, and mentorship goals and strategies.
The Center for Women in Leadership aims to unite and expand the University's community of women thought leaders through engagement, development, and participation in an important dialogue. The center continually develops programs that serve all of the women of Pepperdine.