Château d'Hauteville International Campus Welcomes Inaugural Cohort of Students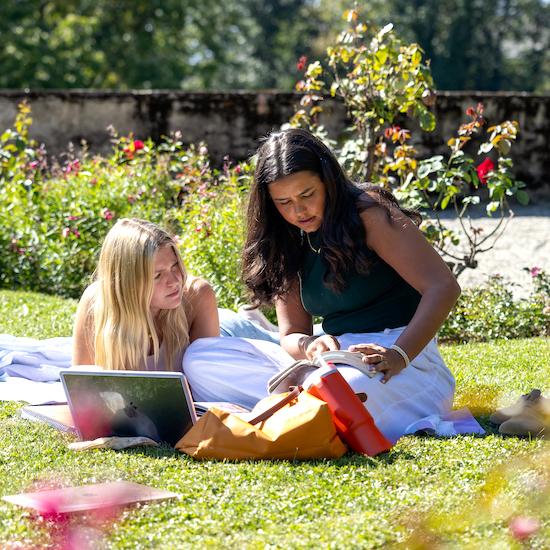 It is harvest season in Vevey, Switzerland. This time each year, the local winegrape growers embrace the crisp autumn air and commence grape picking—a laborious task that must be executed by hand. Fortunately, this season, the Swiss farmers in Blonay - Saint-Légier have extra help.
Samantha Backus, a Seaver College sophomore majoring in studio art, enjoys being surrounded by the soft oranges and warm reds of a Swiss fall. A native of Ohio, her Pepperdine University education has carried her from the sandy shores of Malibu, California, to Vevey's autumnal harvest, where she has spent the day gathering fruit and roaming the endless rows of the Château d'Hauteville's vineyards.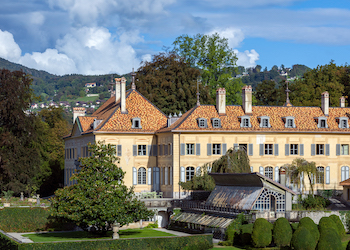 "I love exploring this place," she says. "It's so surreal. All of us are starting to realize that we're actually staying here. This Château is going to be our home for a while."
In August, Pepperdine University's newest international campus, Château d'Hauteville, opened its doors and welcomed the first class of Seaver College undergraduates—a total of 74—to the distinct study-abroad program. By moving to Switzerland for the semester, these students are able to engage with unique educational and cultural opportunities, which at times means contributing an extra pair of hands to local grape harvest.
"The University has been planning and working for years to prepare the Château d'Hauteville to be filled with students and the energy, passion, inquisitiveness, and fun that they bring," says Marc Goodman, the inaugural vice chancellor of Château d'Hauteville and chief administrator of the campus. "I am so grateful and humbled by being able to share the inaugural cohort's experiences with them. I have also heard many comments from local surrounding community members here in Blonay - Saint-Legier about how happy they are to see Pepperdine students out and about and the campus full of life."
Cháteau d'Hauteville is Pepperdine University's largest campus outside of Malibu. It includes a 40,400-square-foot, three story residential château and a 150-seat dining hall alongside vineyards and a 67-acre working farm. Here, Pepperdine University students are able to complete a variety of general education courses as they pursue their undergraduate degrees.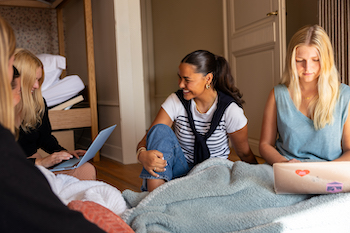 "Being included in the first Château class was very appealing to me," says Samantha Backus, a Seaver College sophomore majoring in studio art. "We have the opportunity to set the tone and culture of this place for years to come."
Pepperdine University's International Programs was ranked number 12 in the 2023–2024 U.S. News & World Report rankings as a result of student cohorts similar to the one of which Backus is part. With an emphasis on fostering a culture of community belonging, the study abroad program appeals to a wide variety of undergraduates. More than 50 percent of Seaver College first-year students typically apply to engage with an educational experience during their sophomore year at one of the University's seven international campuses.
"The opening of the new campus in Switzerland is exciting on many levels," says Charlie Engelman, the University's International Programs senior director of operations. "In some ways it is not new—indeed it builds on the rich heritage of the Lausanne program—but the Chateau's inaugural year will inspire new traditions and help students grow as a community while living and learning abroad."
Beyond setting the standard for future cohorts, the students currently studying at the Château receive the distinct opportunity to grow as individuals in an international setting. By engaging with various cultural, educational, and societal experiences, the young adults are challenged in new and meaningful ways.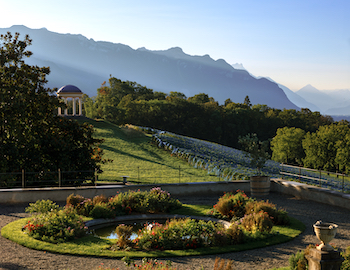 "I'm most excited for the personal growth I'll experience here in Switzerland," says Jannan Jeihani, a Seaver College sophomore psychology major. "Moving to a different country for a full semester; living in one building where you eat, sleep, and study; and engaging with all different walks of life offers so many opportunities to expand and learn to adapt. And we get to do it all while going to school."
While they navigate both their studies and new cultural surroundings, Seaver College students find interesting ways to explore their environment. Beyond roaming the 18th century estate where they live and learn every day, both Backus and Jeihani recognize the benefits of being centrally located in Europe. They specifically mention weekend trips to cities in France and Scotland in their free time to make the most of their international experience.
In addition to a variety of international campuses, Pepperdine offers more than $200,000 in scholarship money to each year's International Program's applicants. These funds assisted a total of 257 students in participating in a study-abroad experience during the 2022–2023 school year. In the future, these scholarships will play an integral role in allowing more Seaver College students to experience a semester in Switzerland.

"My favorite part of being here is the actual Château itself," says Backus. "I love living here. I tell myself each day that I will travel abroad when I'm older, but I'll never live in a château again."