Chipotle CEO and School of Law Alumnus Monty Moran Leads First Annual Parris Institute Speaker Series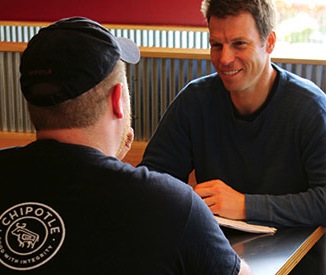 The Parris Institute for Professional Formation at the School of Law will host the first event in its first annual speaker series on Tuesday, Oct. 27, at 12:30 PM at the School of Law, featuring Monty Moran (JD '93). Moran is the co-chief executive officer at Chipotle Mexican Grill.
In 2005, Moran left his position with Denver-based law firm Messner & Reeves and became Chipotle's president and chief operating officer. Among his new duties was to oversee all of the company's restaurant operations. Chosen for his leadership skills, he built teams of all top employees, reaffirming their strengths and focusing on a healthy work dynamic. Moran's success with the company led to a promotion to co-chief executive officer in January 2009. As Chipotle continues to flourish, Moran can now be found traveling to many of the company's 1,500 restaurants within Canada, France, Germany, and the U.K. to work with managers and the rest of its 38,000 employees.
The Parris Institute for Professional Formation is dedicated to the professional development of first-year law students, and provides continual mentoring throughout our students' law school careers. The institute launched in August 2014 and focuses not only on professional development, but also health, personal goals, and ethics. Through awards and Student Life Challenge programs, students are incentivized to perform at the highest level, grow as students, and graduate "practice-ready."
The legal profession has always demanded the highest standards of character, integrity, courage, and leadership. However, the demands of fluctuating economies, complex global justice issues, and the increasing trend of corruption has sought to erode the social trust in lawyers in recent decades. Pepperdine is committed to rebuilding the core internal character competencies that have marked the great contributions of lawyers throughout human history. The Parris Institute provides the inspiration and substance for students to invest as much in who they are as leaders as they do in what they know as legal scholars.
This event is free, but a reservation is required. Visit the School of Law registration website or contact Danny DeWalt for more information.
Read more about how Moran brought a fresh leadership approach to Chipotle in Pepperdine Magazine.