Christian Legal Society CEO David Nammo to Examine the Intersection of Faith and the Law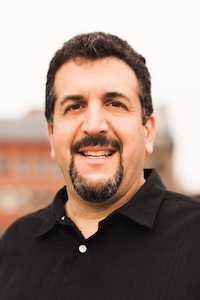 As part of the Caruso School of Law Dean's Speaker Series, David Nammo, chief executive officer of the Christian Legal Society since 2012, will present The Road from Babylon to the Christian Legal Society via Zoom on Wednesday, April 7, at 12:45 PM PT. As a Chaldean American, Nammo will share his thoughts on how Christian law students and attorneys can stand firm for Christ and fulfill their vocations while offering hope to others.
"We have featured a slate of speakers from diverse backgrounds with diverse perspectives, and are excited to host David as our eighth and final speaker in our Dean's Speaker Series for the 2020–21 academic year," shared Paul L. Caron, Duane and Kelly Roberts Dean of the Caruso School of Law. "We are looking forward to David sharing his remarkable journey as the son of a Christian Iraqi and discussing how he has integrated his spiritual and professional lives."
Nammo is the former executive vice president of the Leadership Project for America, where he worked closely with conservative leaders such as former attorney general Ed Meese, publisher Al Regnery, Club for Growth founder Steve Moore, and Congressman David McIntosh, in preparation for the 2012 election cycle.
He previously served as the executive director of the Family Research Council Action, the 501(c)(4) arm of the Family Research Council, where he worked on political issues, interfaced with Congress, and met with candidates from across the country. He also started the first political action committee for the Family Research Council and engaged in the 2008 election cycle in more than 40 states.
Nammo has been interviewed by national and international media, including NBC Nightly News, Fox News, the Associated Press, CBN News, as well as various national and international radio stations. His articles have been published in USA Today, the Washington Times, the National Review, as well as a variety of online news sites.
For additional information about The Road from Babylon to the Christian Legal Society, visit the event's registration page.