Pepperdine Mourns the Passing of Professor Emeritus Clarence Hibbs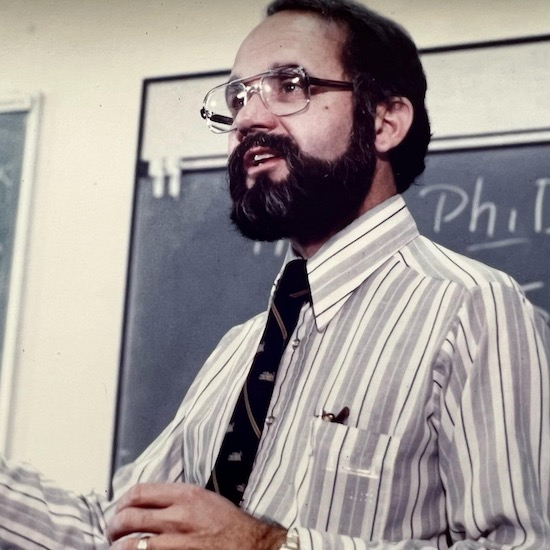 The University is saddened to announce the passing of Clarence Hibbs, emeritus professor of psychology at Seaver College and the Graduate School of Education and Psychology (GSEP). Hibbs retired from the University in 2005 after serving in various roles since 1975.
"Clarence was a gentle, kind, and loving soul," says Dennis Lowe, professor of psychology at the Graduate School of Education and Psychology. "He embodied genuineness, empathy, and warmth—characteristics that made him an effective counselor, pastor, and friend. Clarence was very approachable, and one felt immediately accepted in his presence. I had a chance to work with him in various contexts and saw how beloved he was by students, alumni, and colleagues. He made a significant and lasting impact on students, faculty, and staff at Seaver, GSEP, and the law school. He will be missed, and we are fortunate for the time he spent at Pepperdine."
Hibbs grew up in the Texas Panhandle on a farm bordering Oklahoma and was part of a family of wheat and dairy farmers. After graduating from high school in Borger, Texas, he attended and earned both a bachelor's degree and master of divinity from Abilene Christian University (ACU). He also holds both a master's degree and PhD in counseling psychology from the University of Iowa.
Following his graduation from ACU, Hibbs worked in sales at the Texas and Pacific Railway and later as an associate minister at the Garland Road Church of Christ in Dallas, Texas, in the mid-1960s. He also served as a preaching minister at the Kirkwood Avenue Church of Christ in Iowa City, Iowa, from 1969 to 1975 while earning his doctoral degree.
Hibbs began his Pepperdine career in 1975 at the Pepperdine Counseling Center and later moved to a faculty position in the Seaver College Social Science Division, of which he eventually became chair. He also served on the faculty of GSEP and taught courses in the Master of Arts in Clinical Psychology with an Emphasis in Marriage and Family Therapy program. During his Pepperdine tenure, Hibbs taught an elective class at the Caruso School of Law for Pepperdine law students and their spouses that addressed the psychological aspects of a law student's life, especially their marriage. Hibbs was also a dedicated visiting professor at Pepperdine's Buenos Aires, Heidelberg, and London international programs and taught psychology and religion classes many times abroad throughout his career.
"​​When I first arrived at Pepperdine 24 years ago, Clarence was a warm and welcoming mentor," says Steve Rouse, professor of psychology at Seaver College. "He helped me adjust through the many difficulties of adapting to my new role as a professor. Several years later when I became a department chair, he once again served as a guide to me, helping me learn how to adapt to another new role, this time as an administrator. Clarence was a man of kindness and wisdom who made a positive impact on the lives of everyone who had the pleasure of knowing him. I am grateful to have had him as a mentor."
Beginning in 2005, Hibbs taught family therapy courses and supervised clinical practica at GSEP. That same year, after serving as a marriage and family therapist for 23 years, he opened a private practice in Camarillo, California. He was a clinical member and approved supervisor for the American Association for Marriage and Family Therapy and was also a member of the American Family Therapy Academy; the California Association of Marriage and Family Therapists, where he served as president in 2005; the Western Psychological Association; and the International Association for Family Psychology.
Hibbs and his family began attending Camarillo Church of Christ in 1975, where he served as an elder for more than 25 years and continued attending until he moved away in 2015. He also provided ministerial counseling to the congregation.
Hibbs is preceded in death by his wife of 57 years, Janice. He is survived by his daughters, Julie Hibbs Anastasi and husband Michael Anastasi (daughters Grace and Alexandra), Linda Hood, and Amy Surdacki ('87, EdD '92) and husband Walter (MS '92) (daughters Madeline and Abby).
In lieu of flowers, the family requests that gifts be made to Made in the Streets, an organization dedicated to nurturing the physical, emotional, and spiritual needs of children from the streets of Nairobi, Kenya, and equipping them to earn a living so they may thrive in life.
A memorial service will be held on Saturday, September 10, at the Fountains of Franklin in Franklin, Tennessee.