Contemporary Quebec Circus Company Flip FabriQue to Perform at Smothers Theatre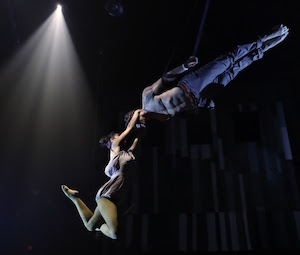 Contemporary French Canadian circus troupe Flip FabriQue will bring their high-energy, playful, and joyful all-ages show to Smothers Theatre in Malibu on Tuesday, October 18, at 7:30 PM.
Flip FabriQue has a creative and collaborative approach to their unique, kinetic shows—an approach that spotlights each performer's strengths in acrobatics and high-level circus techniques to create pure magic on stage. From hula hoops to juggling to yoyos to trampo-walls to diabolos to aerial strap to banquine, the array of skill demonstrated by the troupe is nothing short of astounding.
At Pepperdine, Flip FabriQue will be performing their hilarious show Attrape Moi (Catch Me!), which follows the story of six old friends who have not seen each other in a decade, as they take a trip to a cottage for a weekend of fun.
Established in 2011 by graduates of the Quebec City Circus School, Flip FabriQue's performers have worked with esteemed companies around the world, such as Cirque du Soleil and Cirque Éloize. In 2015 Catch Me! was nominated for Best Unique Theatrical Experience at the Annual Drama Desk Awards.
Ticket prices range between $22 and $45, and are required for attendance.