Critically Acclaimed Rhythm and Blues Artist Brings Her Music to Pepperdine
Two-time Grammy nominee and rhythm and blues Pioneer Award winner Bettye LaVette comes to Pepperdine University's Smothers Theatre at 8 p.m. on Wednesday, March 4.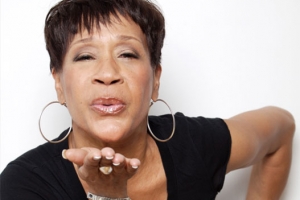 Bettye has appeared on a multitude of stages and television show across the country. She performed a critically acclaimed version of "Love Reign O'er Me" at The Kennedy Center Honors in a tribute to The Who, as well as performed "A Change Is Gonna Come" with Jon Bon Jovi for President Barack Obama on HBO's telecast of the kick-off Inaugural Celebratory concert, We Are One.
She has appeared on National Public Radio's World Cafe, All Things Considered, Weekend Edition, Wait, Wait Don't Tell Me, and performed a Tiny Desk Concert. She has appeared in a Mississippi Public Broadcasting series, Blues Divas, and is in a film of the same name, both produced by award-winning filmmaker, Robert Mugge. She has also been a guest on The Tonight Show with Jay Leno, Late Night with David Letterman, The Conan O'Brien Show, The Late Late Show with Craig Ferguson, Lopez Tonight, Austin City Limits, The Prairie Home Companion, The Artist's Den, Good Morning America, The Today Show and The Tavis Smiley Show.
In 2012 she released both a new album, Thankful N' Thoughtful, and her autobiography, A Woman Like Me, written with David Ritz. Her most recent album, Worthy, will release on January 27, 2015.
A multi-faceted artist, Bettye has collaborated with myriad musicians and producers over her career, including working alongside Charles "Honi" Coles and Cab Calloway from 1979 to 1982 in the Tony Award-winning Broadway musical Bubbling Brown Sugar, in the role of Sweet Georgia Brown.
In addition to two Grammy nominations in her career, Bettye was given the prestigious Pioneer Award by The Rhythm & Blues Foundation in 2006, as well as the Blues Music Award for Best Contemporary Female Blues Singer. She won the coveted W.C. Handy Award in 2004 for Comeback Blues Album of the Year, as well as the Living Blues critic pick as Best Female Blues Artist of 2004.
Bettye started recording during the birth of soul music in the 1960s and continues to create vital interpretations today – a gift to songwriters and music lovers alike.
Tickets are $22 for the public and $10 for full-time Pepperdine students. For tickets and more information, please call (310) 506-4522 or visit the Center for the Arts website.