School of Public Policy and the Heritage Foundation Host Cyber Security Panel Discussion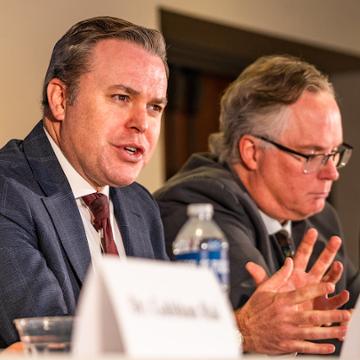 On Tuesday, January 17, the Pepperdine School of Public Policy, in partnership with the Heritage Foundation, hosted a panel discussion called Cybersecurity and the Quad: Opportunities and Challenges Abound as part of a three-day conference titled "Connected and Secure in the Indo-Pacific: Challenges, Threats, and Opportunities for Quad Cyber Security." Kiron Skinner, the Taube Professor of International Relations and Politics at the School of Public Policy, and visiting fellow at the Heritage Foundation's Kathryn and Shelby Cullom Davis Institute for National Security and Foreign Policy, was instrumental in bringing the two organizations together to organize the conference.
"The Quad" is the common name for the Quadrilateral Security Dialogue, an organization described by the Australian Department of Foreign Affairs and Trade as "a diplomatic network of four countries [India, Japan, the United States, and Australia] committed to supporting a free and open Indo-Pacific that is inclusive and resilient." The Quad focuses on the region's most pressing challenges, including infrastructure, critical and emerging technology, cyber security, and counterterrorism.
All four member nations were represented on the discussion panel, which featured Gulshan Rai, a distinguished fellow at the Vivekananda International Foundation and former national cyber security coordinator for the government of India; Mihoko Matsubara, chief cyber security strategist for the NTT Corporation in Tokyo and a member of the Japanese government's cyber security research and development policy committee between 2014 and 2018; Patrick Hallinan, Australian minister counsellor for home affairs and regional director for the Americas with the Embassy of Australia; and Vice Admiral T. J. White of the US Navy (retired), former commander of the US Fleet Cyber Command/US Tenth Fleet/US Navy Space Command and commander of the US Cyber National Mission Force/USCYBERCOM. The discussion was moderated by Jeff M. Smith, director of the Heritage Foundation's Asian Studies Center.
The panelists discussed a worldwide increase in the number and scope of cyber attacks in recent years, particularly through the use of ransomware that has targeted government and other public institutions, business and industry, education and research facilities, and even private citizens. After a major cyber security breach in Australia, Hallinan shared, "my wife's personal data was hoovered up. The rubber is very much hitting the road for regular Australians [regarding the importance of cyber security]." Matsubara stressed the importance of "the protection of critical infrastructure and raising the resiliency of cyber security."
All panelists emphasized the need for cooperation between the Quad member nations, including sharing best practices to protect against cyber attacks. Vice Admiral White remarked that the Quad countries have "shared interests, shared values, and shared problems," while later in the discussion, Rai stated, "Mutual cooperation is very, very important between countries."