Dance Company Ailey II to Perform New Show at Pepperdine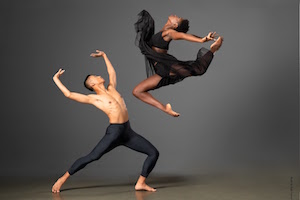 Renowned for celebrating the American modern dance heritage and preserving the uniqueness of the African American cultural experience, dance company Ailey II will perform at Pepperdine University's Smothers Theatre in Malibu on Tuesday, February 26, at 8 PM.
One of the most popular dance companies in the country, Ailey II combines a rigorous touring schedule with extensive community outreach programs. As part of "Ailey Ascending," the organization's 60thanniversary celebration, the 12-member ensemble is performing new commissions by acclaimed choreographers in 38 cities around the world.
The company will perform three pieces for its Pepperdine show: Tracks, Where There Are Tongues, and Breaking Point.
Tracks (2018)
Uri Sands, in collaboration with the dancers of Ailey II, created Tracks, a work that braids together ballet, modern, and urban dance techniques. The soundtrack, featuring The O'Jays, Big Louisiana, Arthur Davis, and Willy Rafus, underscores the powerful movement which examines racial, sexual, and economic divisions in our world today.
Where There Are Tongues (2018)
Where There Are Tongues, designed by South African-born choreographer Bradley Shelver, is inspired by the idea that we are all in this world together, succeeding or failing as a collective. The rhythmically complex music, by French a cappella group Lo Còr De La Plana, couples with Shelver's quirky style to make dance theater that will set pulses racing.
Breaking Point (2017)
Jamaican-born choreographer Renee I. McDonald's Breaking Point is an intense depiction of the fight for our heart's desire. Whether it is love, friendship, forgiveness, or a secret longing–these things can take us to our limit. Suitably paired with the bold and pulsating sounds of Audiomachine, McDonald's high-powered, modern-based choreography captures the willpower and frenzy it takes to keep up "the fight" until you hit your breaking point.
For more than 40 years, Ailey II has merged the spirit and energy of the country's best young dance talent with the passion and creative vision of today's most outstanding emerging choreographers. Started in 1974 as the Alvin Ailey Repertory Ensemble, Ailey II embodies Alvin Ailey's pioneering mission to establish an extended cultural community that provides dance performances, training and community programs for all people. Ailey personally selected the veteran dancer Sylvia Waters to lead this junior company, and as its Artistic Director for 38 years, she developed Ailey II into one of America's most popular dance companies.
In June 2012, Waters retired and named her longtime associate Troy Powell as the new Artistic Director. With Powell at the helm, Ailey II continues to thrive as he brings a fresh dimension to this beloved company. The critically-acclaimed Ailey II has a distinctive repertory that has included works by dance masters Alvin Ailey, Talley Beatty, Donald Byrd, Ulysses Dove, George W. Faison, Lar Lubovitch, Alvin Ailey American Dance Theater Artistic Director Robert Battle and Artistic Director Emerita Judith Jamison.
The company has also performed innovative works by rising choreographers such as Jae Man Joo, Juel D. Lane, and Renee I. McDonald. Touring throughout the United States and abroad, Ailey II will reach dozens of cities during its 2018–2019 tour.
Ticket prices range between $10 and $50, and are required for attendance. For additional information about the performance, and to purchase tickets, visit the Center for the Arts website.
Photo credit: Kyle Froman