Dee Anna Smith Named Chair of Pepperdine Board of Regents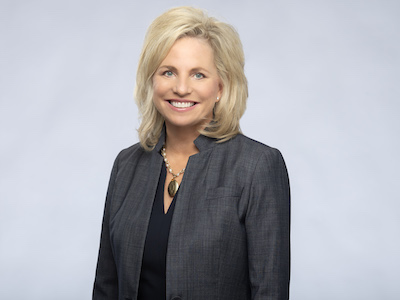 Dee Anna Smith ('86), chief executive officer of Sarah Cannon, the Cancer Institute of HCA Healthcare, has been appointed chair of the Pepperdine University Board of Regents. The selection was announced at the annual Board of Regents meeting on June 11, 2019.
"I am thrilled that Dee Anna Smith will be lending her unique perspective and extraordinary skills to help shape and direct the policies of the University," said Jim Gash, president-elect of Pepperdine. "I look forward to partnering with her on accelerating Pepperdine's ascension to the next level in higher education."
In her role as chair, Smith will be responsible for guiding the board to strategically advance the progress of the University, welcoming the expression and exchange of a wide array of perspectives and ideas, and helping lead the University in generating financial resources to foster academic excellence and spiritual growth in all students. Smith is the first Pepperdine graduate to chair the board, as well as the first woman to occupy the position.
"I am both proud and honored to serve my alma mater in this important capacity and to work alongside President-elect Gash to engage deeply with the strategic direction of the University," shared Smith, who has been connected to Pepperdine for more than 30 years and a member of the board since 2014. "Pepperdine indelibly impacted my academic and spiritual development as a student. I am inspired by the opportunity to support the next generation of Waves as we begin a new chapter in Pepperdine's history."
Appointed as Sarah Cannon's CEO in 2006, Smith is responsible for leading the organization's overall mission and vision to make a global impact on cancer research and care. Under her leadership, Sarah Cannon has grown its reach in bringing world-class cancer care closer to home for hundreds of thousands of people facing cancer across the United States and United Kingdom. Additionally, the organization has been a key contributor in clinical research that has led to the majority of newly approved cancer therapies over the last decade.
Prior to joining Sarah Cannon, Smith founded two companies focused on clinical trial services; the first startup was acquired by Oracle and the second was acquired by HCA Healthcare to become a part of Sarah Cannon's research platform. Smith began her career as an auditor and Certified Public Accountant (CPA) with KPMG after receiving a bachelor's degree in accounting from Pepperdine. In addition to her service on the Pepperdine University Board of Regents, she serves on the board of directors for the Nashville Health Care Council and as board chair of the Nashville Entrepreneur Center. Smith was also the recipient of the Seaver College 2019 Distinguished Alumnus Award. She is a member of the Churches of Christ and attends Ethos Church in Nashville, Tennessee.
The Board of Regents, the legal governing body and chief policy board of the University, also selected new officers during the June 11 meeting. Terry M. Giles (JD '74) and Frederick L. Ricker were appointed vice chairs, Timothy C. Phillips ('87) was named secretary, and Michelle R. Hiepler (JD '89) was selected as assistant secretary.
Additionally, five current regents, Glen A. Holden, Susan F. Rice (EdD '86), Carol Richards, B. Joseph Rokus ('76), and William W. Stevens, Jr., concluded their tenure on the board and were granted Life Regent status in recognition of their extraordinary service.