Deryck J. van Rensburg to Conclude Tenure as Graziadio Business School Dean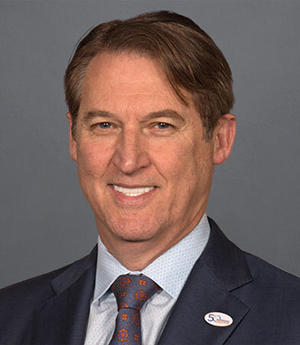 On Wednesday, December 1, 2021, Pepperdine president Jim Gash announced Deryck J. van Rensburg will conclude his appointment as dean of the Pepperdine Graziadio Business School at the close of the spring 2022 semester. Van Rensburg will return to the classroom as a Graziadio faculty scholar at the beginning of the 2023–2024 academic year after a year-long sabbatical.
"Dean Van Rensburg is a respected and experienced business leader who has led our business school with distinction, and who cares deeply about Pepperdine," shares Pepperdine provost Jay Brewster. "He also is a person of sincere faith who has enriched the Christian community that shapes Pepperdine's institutional identity. I wish him all the best in this transition and am thankful that he has chosen to remain a part of the Pepperdine family."
Since 2016 Van Rensburg has deftly led Graziadio's business programs, informed by more than three decades of global business experience, as the school climbed rankings and grew its scholarly reputation. His passion for experiential learning has helped new academic programs grow at the business school, including the doctor of business administration degree, which was introduced in 2018. His commitment to developing students into best for the world leaders became a hallmark of Graziadio's ASPIRE 2025 strategic vision.
Before coming to Pepperdine, Van Rensburg provided his talent for executive leadership to Fortune 500 companies including the Coca-Cola Company and Unilever. At Coca-Cola, where he served for more than 20 years, he was president of global ventures, reporting to their chairman and CEO, and previously held division president roles over operating units in both established markets (Germany and the Nordics) and emerging markets (Eastern Europe and the Middle East). Since 2018 he has been named among the LA500, a list of the most influential and impactful executives in the Greater Los Angeles area by the Los Angeles Business Journal.
The University will begin preparing for Van Rensburg's transition by initiating a nationwide search for his successor, engaging an executive search firm and an internal search committee chaired by Provost Brewster.
"Deryck has been an outstanding leader," says Gash. "The University's Steering Team has benefited tremendously from the wisdom and experience he brings to every topic we discuss. He will be missed at Graziadio's helm."