Dispute Resolution Law Journal Annual Symposium to Explore Implications of Rescheduled 2020 Olympics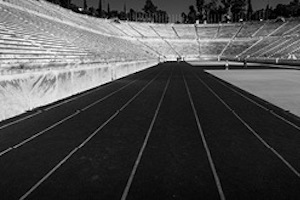 The 2021 Dispute Resolution Law Journal Symposium at Caruso School of Law, entitled Tokyo 2020 Rescheduled: Implications for Athletes, Governing Bodies, Commercial Parties, and Dispute Resolution, will take place on Friday, April 9, from 8:30 AM to 12:30 PM PT. The half-day symposium will bring together leaders in international sports law to address the uncertain future of the Olympic Games and how it affects athletes, national governments, and all other parties responsible for organizing the event.
"We are fortunate to be able to feature a lineup of speakers who are at the top of the Olympic movement," says Maureen Weston, professor of law and director of the entertainment, media, and sports law program at Caruso Law. "Many of the speakers have been to Caruso Law, particularly since we hosted the first-ever international public doping arbitration involving Floyd Landis v. the United States Anti-Doping Agency."
This year's distinguished speakers will include:
Jeff Benz, JAMS Mediator, Arbitrator, Referee, Special Master, Court of Arbitration for Sport, Door Tenant, 4 New Square
Sebastian Coe, President, World Athletics, Port Hercules
Jeff Cook ('03, JD '06), General Counsel, US Anti-Doping Agency
Howard Jacobs, Attorney at Law, Offices of Howard L. Jacobs
Michael Lenard, President, Court of Arbitration for Sport Ad hoc Division, Tokyo Olympic Games, Vice President, International Council of Arbitration for Sport
Matt Mitten, Professor and Executive Director National Sports Law Institute, Marquette University Law School
Maidie Oliveau, Counsel, Arent Fox LLP
Steven Smith, Managing Partner, Bryan Cave
Norman Wain (JD '96), General Counsel and Chief of Business Affairs, USA Track & Field
Kacie Wallace, Athlete Ombudsman, United States Olympic & Paralympic Committee
Maureen Weston, Professor of Law, Pepperdine Caruso School of Law
For additional information about the symposium, and to register to attend, visit the event's registration page.