Diversity and Inclusion Symposium Draws Hollywood Experts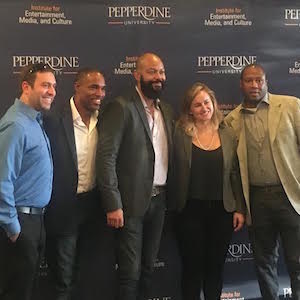 In partnership with Pepperdine Alumni Affairs, the Institute for Entertainment, Media, and Culture presented "Engage: Navigating Hollywood's Shifting Landscape" at the Fairmont Miramar Hotel & Bungalows in Santa Monica on November 3. The symposium was presented on the occasion of the American Film Market, the world's largest motion picture business event, where over 7,000 industry leaders converged in Santa Monica for eight days of deal-making, screenings, conferences, networking, and social events.
The symposium featured leading Hollywood producers, strategists, and C-suite executives as they explored questions and offered insider information about diversity and inclusion within the entertainment industry. Television actress Lisa Vidal hosted the event and Suzanne de Passe, cochair of de Passe Jones Entertainment Group, and Carmi Zlotnik, president of programming at Starz, served as keynote speakers.
Panelists representing various areas of the entertainment industry shared their expertise on trends and best practices as they discussed the redefining of mainstream content in response to demand for more inclusive content; practical insight into the craft of pitching work; and other valuable experiential knowledge for aspiring industry professionals.
Panelists and contributors included:
Edward Allen, chief operating officer of Pantelion Films
Effie Brown, producer and mentor for Project Greenlight
Deborah Calla, principal of Calla Productions
Keith Clinkscales, founder and chief executive officer of The Shadow League
Madeline Di Nonno, chief executive officer of the Geena Davis Institute on Gender Studies
James Lopez, producer and head of motion pictures at Will Packer Productions
Courtney McCarthy, lead strategist and content producer for Google
William Nix, chairman of the Creative Projects Group and Engage symposium producer
Dondre Whitfield, actor (Queen Sugar)
Haylen Van Koppen, chief human resources officer of Legendary Entertainment
Marlon Young, actor (War of the Worlds)
For additional information about this event, visit the Institute for Entertainment, Media, and Culture website.