Dramatic Baroque Lenten Piece to be Performed by Chamber Choir
In commemoration of Lent, the Pepperdine Chamber Choir will join with four professional vocal soloists and four professional period instrumentalists to present one of the great Lenten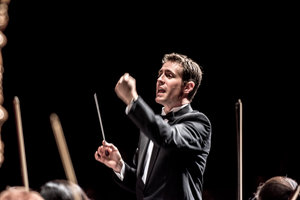 musical compositions of the Baroque era. Ryan Board, Pepperdine director of choral activities, will give a pre-concert lecture focusing on the historical context of the music beginning at 6:30 p.m., followed by the concert at 7:30 p.m., on Saturday, March 14, in Stauffer Chapel.
The "Membra Jesu Nostri," written in 1680 by Dietrich Buxtehude, is a cycle of seven short cantatas that each reflect on a part of Christ's body broken on the cross. These intensely spiritual pieces are stunning in both their beauty and in the poignancy with which they reflect on the crucifixion. Listeners will be surprised by the rich harmonic color of the music, which is much more romantic than is typically expected in Baroque music. Especially unique to this concert will be the period instrumentalists performing on Baroque instruments. Two violins, cello, and positive organ will combine with vocals to create a historically accurate soundscape.
For more information, please visit the Center for the Arts website.