Drescher Library to Launch New iLab Collaborative Space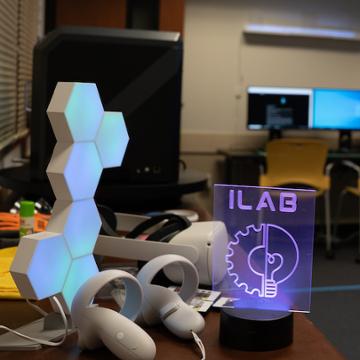 On Friday, February 3, from 10 AM to 12 PM, the Drescher Graduate Campus Library will host an open house to celebrate the grand opening of the new iLab, a technology collaborative space that is available to all Pepperdine students, faculty, and staff. The open house will feature demonstrations of the iLab's technology and light refreshments will be served.
"We are excited to welcome the Pepperdine community to the iLab," says Erik Helton, the librarian for the Drescher Graduate Campus. "Our hope is that the new technologies will help faculty and graduate students with their teaching, research, and learning needs. This innovative space provides students with a collaborative environment where they can exchange ideas and build skill sets."
The iLab was initially conceived in 2019 to build on the success of the Genesis Lab, Pepperdine's makerspace and home for emerging technologies, located in Payson Library. Development of the iLab began in earnest last year, after returning to campus from the pandemic. Although there is some overlap in the technologies available in both spaces, the iLab was created with the specific purpose of meeting the unique needs of graduate students and faculty. Users can access technological tools to engage in research tasks such as transforming complex datasets into simple visual graphics using software like Tableau, exploring virtual reality with an Oculus Quest 2 VR headset, creating original video recordings or podcasts in the iLab studio, fabricating three-dimensional objects with a Dremel Digilab 3D45 printer, and accessing Bloomberg financial data.
The iLab will be open Monday through Friday, from 2 PM to 7 PM. Reservations are not required to use the tools in the main iLab space, although those interested in using the iLab Studio to record a video or audio project are advised to make a reservation.