Edwin L. Biggers Concludes Service as Chair of Pepperdine Board of Regents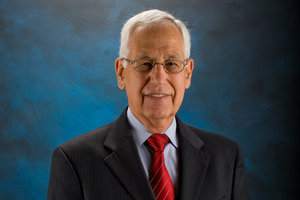 Edwin L. Biggers, chair of the Pepperdine University Board of Regents, will conclude his 15-year service as chair of the board following the Board of Regents meeting on June 11, 2019. Biggers has been a member of the Board of Regents since 1989 and has led the board since 2004 serving alongside Pepperdine president Andrew K. Benton.
"I hold Ed Biggers in high esteem as a professional with a sterling reputation," said Benton. "He is also a dear and devoted friend. He serves the high and the mighty and the lowly with the same sense of Christ-like duty. Every interaction I had with him, especially during my presidency, was an opportunity to learn. What a gift. In every way, he has changed Pepperdine—through his generous philanthropy, his steadfast leadership, and his fervent prayers."
Prior to joining the Board of Regents, Biggers was inspired by his late wife, Joan, to become a loyal friend and advocate of the University both through financial support and active personal involvement. During his tenure at Pepperdine, Biggers has been deeply involved in countless programs and initiatives at the University, including Harbor, the Boone Center for the Family, the Church Leaders Council, and Pepperdine Legacy Partners.
A devoted husband to his wife, Paula, Biggers is an exemplary role model to his children and grandchildren, including three Seaver College alumni. Together, their strong and lasting commitment to the University is evidenced by the Edwin and Paula Fong Biggers Tower at Seaside Residence Hall and the Biggers Family Courtyard. The Biggerses are also generous benefactors of multiple Pepperdine scholarships, the Boone Center for the Family, and the Student Recreation and Events Center.
"Throughout the last three decades, Pepperdine has been more than just a university," said Biggers. "For Paula and me, it has been both family and a cherished place to call home. We are humbled to have had the opportunity to shape the extraordinary progress of the University, and we will be forever grateful for the impact this special community has had on our family."
As a trained engineer, Biggers worked at Hughes Aircraft Company for 34 years and served as president of the Hughes Missile Group (now Raytheon Missile Systems) prior to his retirement in 1994. He earned his bachelor of science degree from the United States Naval Academy in Maryland in 1957, after which he completed a three-year commission as missile officer of the United States Air Force at Eglin Air Force Base in Okaloosa County, Florida. During his early years at Hughes, Biggers was awarded a master of science fellowship to study engineering at the University of California, Los Angeles. He is also a graduate of the executive program of the UCLA Anderson School of Management.
Biggers has served on numerous advisory boards and councils for the state of Arizona, as well as local organizations in his hometown of Tucson. He served as chairman of the board of the Tucson Airport Authority and as a member of the board of Pusch Ridge Christian Academy, the Industrial Advisory Council of the University of Arizona School of Engineering, the Habitat for Humanity Advisory Council, and the Tucson Young Life Metro Committee. He is former president and current chairman of the board of Advanced Ceramics Manufacturing, a native American-owned company in Tucson, and he served as an elder of the Mountain Avenue Church of Christ.