Estampas Portenas Tango Company to Perform at Smothers Theatre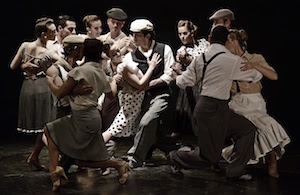 The Buenos Aires-based Estampas Porteñas Tango Company will bring its newest show Deseos...Stories of Longing and Desire told through Argentine Tango and Music to Smothers Theatre in Malibu on Tuesday, November 22, at 8 PM.
Estampas Porteñas will celebrate the indomitable tango and the athletic malambo of the gauchos with a performance that will combine the greatest artistic elements of Argentina in a dazzling show with flawless and emotive dancing, as well as ardent, soul-filled music performed by live musicians.
This new creation of artistic director Carolina Soler will include advanced technical elements, such as projection mapping—a method of illumination and projection that will transport the audience from a train station in rural Argentina, to a milonga in an urban barrio to an outdoor plaza in Buenos Aires.
Estampas Porteñas was founded in Buenos Aires in 1997 by the distinguished dancer and choreographer Carolina Soler. Beginning her career in classical ballet, Soler was celebrated for her dazzling portrayals of traditional classical ballet roles. With Estampas Porteñas, she turns to the dance form that is the heart and soul of Argentina.
In its first year, Estampas Porteñas toured China, performing over 60 successful shows. On its return to Argentina, the company performed at the Cultural Centre General San Martin, enjoying popular and critical acclaim. To date, the company has performed in over 20 countries on five continents and presented various successful productions including Tango Fire, Tango Feeling, and Entre Tangos y Firuletes.
Ticket prices range between $25 and $50, and are required for attendance. For additional information about the performance, and to purchase tickets, visit the Center for the Arts website.