Fall 2016 Convocation Series Invites Community to Worship at an Open Table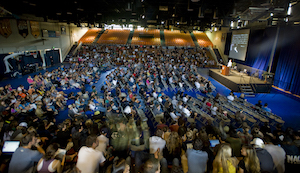 The Pepperdine University Office of the Chaplain presents the fall 2016 convocation series featuring Wednesday Chapel worship and study services at Firestone Fieldhouse in Malibu each week at 10 AM.
This semester's Wednesday Chapel theme, "Invitation," will explore the meaning of being Christ-like as individuals and as a community, as the Office of the Chaplain invites every member of the community to worship at an "open table" where everyone is welcome.
The inspiration for the theme came from University founder George Pepperdine himself, who in his 1937 dedicatory address invited students of all faith backgrounds to learn about the Christian faith in addition to their academic pursuits. Guest speakers will share their testimonies of how God has shaped them and discuss gospel-centered messages.
Upcoming Wednesday Chapel services will include:
Elizabeth Dias, TIME Magazine religion columnist
An award-winning TIME correspondent, Dias has interviewed the Dalai Lama, traveled with Pope Francis aboard the papal plane, covered the 2012 and 2016 presidential campaigns, and reported on foreign policy stories from Sudan to Cuba. Her cover stories for TIME include the 2013 Person of the Year feature on Pope Francis and investigative pieces on America's faith and political landscape.
Vince Bacote, author of The Political Disciple: A Theology of Public Life
Bacote is an associate professor of theology and the director of the Center for Applied Christian Ethics at Wheaton College in Wheaton, Illinois. He is a columnist for Comment magazine and has published articles in magazines such as Books and Culture, Christianity Today, and Think Christian, and journals such as Christian Scholars Review, Urban Mission, and Journal for Christian Theological Research.
Ray Norman, author of Dangerous Love
Norman is the scholar-in-residence at Messiah College in Grantham, Pennsylvania, where he previously served as academic dean. He is currently the director for faith leadership, water, sanitation, and hygiene at World Vision International and former national director for World Vision's program in the Islamic Republic of Mauritania.
Aarti Sequeira, Food Network chef
Sequeira is a chef and television personality, best known as the winner of the sixth season of The Next Food Network Star. In 2008 she started the online cooking variety show Aarti Paarti, which premiered on Food Network in 2010. She currently hosts Taste in Translation, a cooking show in which she seeks the most popular international dishes.
"Wednesday Chapel is our biggest opportunity to not only bring our students together, but to bring all of us together," shares director of convocation Gus Peterson. "When I look at some of the things George Pepperdine said in the past, Wednesdays seem like the best opportunity for intentional, unapologetic, Christian worship. We happen to have a diverse array of Christian speakers who are sharing with us their experiences and God's calling in their lives, and in that we're challenged as a community to step forward in different ways of faith."
The Office of the Chaplain provides opportunities for the University community to express Christian faith and spiritual renewal. These include gatherings for students, faculty, and staff at the Thanksgiving and Easter celebrations, Veritas Forum, Seaver baccalaureate service, and regular times of prayer and worship.
For additional information about the Seaver College convocation program, and for a list of upcoming events, visit the convocation series page on the Pepperdine University website.