Folk Duo Bettman and Halpin to Perform at Pepperdine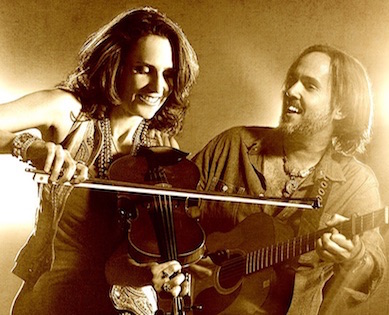 Award-winning Americana and folk duo Bettman and Halpin come to Pepperdine University's Smothers Theatre in Malibu on Thursday, January 28, at 8 PM.
The nationally acclaimed duo comprises two equally accomplished musicians, Stephanie Bettman and Luke Halpin. Bettman has been described as a triple threat. An accomplished writer, her songs are infused with wit and wisdom. As a vocalist, she has drawn comparisons to such legendary singers as Emmylou Harris, Joan Baez, and Alison Krauss. Her fiddle playing, which combines elements of bluegrass and jazz, is filled with influences from such masters as Stephanie Grappelli, Byron Berline, and Johnny Gimble.
Halpin is a renowned multi-instrumentalist who draws inspiration from the likes of Sam Bush, Mark O'Connor, and Tony Rice. A dynamic vocalist himself, Halpin has worked the stages with the likes of Merle Haggard, Lone Star, and The Steve Miller Band.
As a duo, Bettman and Halpin create a full acoustic, delightfully eclectic sound that is far greater than the sum of its parts. Together they weave a spell that takes the listener from up-tempo, down-home fiddling, to soulful sorrowful ballads, to catchy folk/pop with lyrics that will stick with you long after the concert is over. Touring together since 2008, the duo has been recognized in various regional and national competitions, including being named grand prize winners in the SoCal Live Acoustic Music Competition and winners in the Topanga Banjo/Fiddle Contest. Bettman's debut album along with the duo's current album have received national and international radio play, as well as critical acclaim.
Tickets, priced starting at $20 for the public and $10 for full-time Pepperdine students, are available now by calling (310) 506-4522 or on the Center for the Arts website.