Former Chipotle Mexican Grill Executive Monty Moran to Explore New Book with President Gash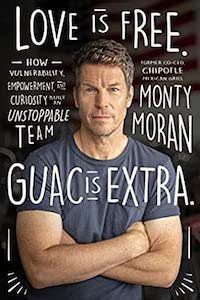 Pepperdine University Alumni Affairs will host Coffee with Jim: A Conversation with Monty Moran, featuring an online conversation between President Jim Gash (JD '93) and Monty Moran (JD '93), former co-CEO of Chipotle Mexican Grill. Among other topics, the Caruso School of Law alumni will discuss Moran's new book Love Is Free. Guac Is Extra.: How Vulnerability, Empowerment, and Curiosity Built an Unstoppable Team. The virtual chat will take place on Friday, November 20, at noon PST.
Prior to joining Chipotle Mexican Grill, Moran was head of litigation, managing partner, and CEO at the Denver-based law firm of Messner and Reeves, LLC, which he led for 10 years. Most recently, Moran realized his lifelong dream of becoming a pilot, flying his airplane throughout the United States to pursue his interest in better understanding and serving Americans, a quest he documents through his startup, Old Tale Productions. In addition to being a filmmaker and author, he is a director and chair of corporate boards and advisor to many entrepreneurs and businesses.
For additional information about the event and to register to attend, visit the Pepperdine University page on the Engage website.