Former Pepperdine Athletes and Olympians to Discuss Going for the Gold in Virtual Panel Event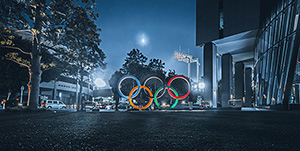 On Wednesday, July 21, 2021, at 7 PM PDT, Pepperdine Olympians will join Pepperdine president Jim Gash (JD '93) and James Gehrels ('17), former men's volleyball player and current director of the Waves Athletic Fund, to discuss their Olympic experiences. Featured Olympians will include triathlete Jennifer Gutierrez-Hughes ('89, MA '91), beach volleyball player Nicole (Sanderson) Hannan ('97), silver medalist and associate water polo head coach Merrill Moses ('99), volleyball gold medalist Sean Rooney ('05), Pepperdine water polo head coach and three-time Olympian Terry Schroeder ('81), and more. During the panel discussion, guest attendees will be able to submit questions and have a chance to win Pepperdine gear.
"Pepperdine is rooted in a foundation of excellence and that tradition is reflected in the achievements and success of Waves who have gone on to become Olympians," said Pepperdine president Jim Gash. "I am ecstatic to welcome these athletes of great character back home so we, as a community, can learn from their discipline, perseverance, and dedication."
The event will build excitement for the Tokyo 2020 opening ceremony on Friday, July 23, 2021, where 12 former Pepperdine athletes and coaches will join more than 10,000 athletes on the global stage for the long-awaited Olympic competitions. Since 1956 when Jerome Walters made history as the first Pepperdine athlete to compete in the Olympic games, Pepperdine Waves have maintained a long tradition and presence at the games. With three of the 12 Waves this year making their Olympic debut, the total number of Pepperdine people to join the legendary stage climbs to 56.
The Tokyo 2020 games, keeping their 2020 name despite COVID-19 postponing the event last year, will be one of the most unique in Olympic history with spectators being barred from stadiums and careful safety and wellness precautions in place. Despite these hurdles, athletes, coaches, and spectators are eager for the two-week global event.
To learn more about the event and to register to attend, visit the Going for the Gold event website.