Fred Sands Institute of Real Estate Announced by Pepperdine University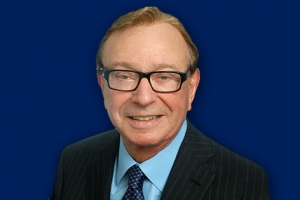 Partnering with one of California's most successful real estate industry icons, Pepperdine University this week announced the establishment of the Fred Sands Institute of Real Estate within its Graziadio School of Business and Management.
Rounding out the Graziadio School's MBA and business education resources, the institute will be anchored by an endowed chair occupied by the institute's director, regional and national real estate conferences, a Fred Sands Fellows program, and eventually a master's degree and certificate opportunities.
Joining the diverse academic and outreach enterprises of Pepperdine's Graziadio School that include entrepreneurship initiatives and the acclaimed E2B (Education to Business) program, the Sands Institute will engage students and real estate professionals at both practical and policy levels. Conferences will explore real estate development trends and best practices, acquisitions, the brokerage business, financing opportunities, and other timely industry topics.
"In endowing this dynamic institute, Fred Sands affirms with us that real estate is far more than a business transaction," said Pepperdine president Andrew K. Benton. "Real estate speaks to the heart and soul of America and what defines this country as an exceptional nation. Nowhere more profoundly than in the Golden State is real estate developed, guarded, and promoted with such vigor, making Pepperdine's Malibu campus and our Graziadio School the ideal venue to house a significant institute in this field—with Fred Sands as its namesake."
Fred Sands and California real estate have been synonymous for decades, a testament to the spectacular success of the company that carried his name for 30 years. He is the former chairman of California's second largest real estate and financial services company, which along with its franchised operations employed 4,000 people and generated $9.4 billion in volume per year. The debt-free company was sold to Coldwell Banker in 2000.
Today, Sands chairs and is sole owner of Vintage Real Estate, LLC, which acquires and revitalizes regional malls across the nation. He also chairs Vintage Fund Management, LLC, which invests in growth companies and historically has generated returns that would place it in the top quartile of comparable private equity firms.
Fully engaged in the cultural life of Los Angeles, Sands is a founder and current president of the Museum of Contemporary Art. His wife, Carla, is president of The Blue Ribbon of the Los Angeles Music Center.
About Pepperdine University Graziadio School of Business and Management
A leader in cultivating entrepreneurship and digital innovation, the Graziadio School of Business and Management of Pepperdine University focuses on the real-world application of MBA-level business concepts. The Graziadio School provides student-focused, globally-oriented education through part-time, full-time, and executive MBA programs at our five Southern California campuses and Silicon Valley campus, as well as through online and hybrid formats. In addition, the Graziadio School offers a variety of master of science programs, a bachelor of science in management degree-completion program, a Presidents and Key Executives MBA, and executive education certificate programs. Follow the Graziadio School at facebook.com/pepperdine.graziadio and https://twitter.com/graziadioschool.
For more information, please visit the Graziadio School of Business and Management website.