Frederick R. Weisman Museum of Art Presents On Location in Malibu 2015
The Frederick R. Weisman Museum of Art at Pepperdine University will present On Location in Malibu 2015: Paintings by the California Art Club from May 23 to August 2. A reception to meet the artists will take place on Saturday, May 23, from 5 to 7 PM. There is no admission charge and the public is invited to attend.
On Location in Malibu 2015 is the sixth in a series of triennial exhibitions that began in 1999. It consists of more than 60 paintings of Malibu created by artist-members of the California Art Club, the oldest continually operating art association in the state. Many were produced over the past year especially for this exhibition.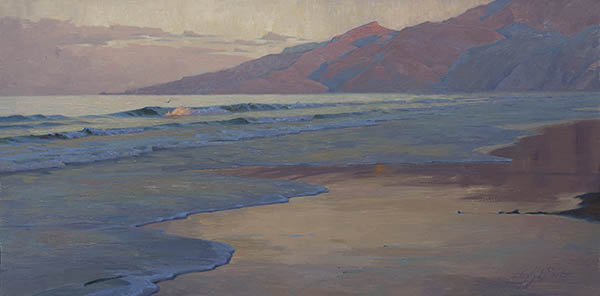 For decades Malibu has attracted visitors with its rare blend of Hollywood glamour and natural, rustic beauty. For the past year artist members of the California Art Club, organized in 1909, have been visiting Malibu to not only capture what this unique community means to them, but also document how the diverse scenery has changed over the years. Their works—many painted on location—reveal that this oceanside paradise is a complex place with many moods and identities.
The majority of the paintings were done in the spirit of "plein-air." This French term refers to landscape paintings executed outdoors. By working on the spot and directly in front of the subject, artists can respond to nuances of light and setting that are lost in photographs. Plein-air paintings display a depth of perception and a poetry of subjective interpretation that give these works their broad appeal.
Impressionist painting arose in France in the late-19th century. In the first decades of the 20th century, artists in California adopted these techniques to capture the distinct atmospheric qualities and glowing light of the Golden State. The practice of painting en plein air was revived in the late 20th century by a new generation of artists who have returned to realist aesthetics and traditional art methods to engage a new audience in art discourse.
The California Art Club was founded in 1909 by artists such as Edgar Payne, Guy Rose, and William Wendt, members of the first generation of California Impressionists. Today's California Art Club artists create their works of art employing many of the same time-honored techniques used by their predecessors. What has changed, however, is the manner in which they are interpreting their subjects. These contemporary-traditional fine artists are documenting on canvas how the world is evolving around us, while exploring modern messages and concerns, ranging from the environment and preservation efforts to social and spiritual messages.
The paintings in On Location in Malibu capture Malibu's startling variety of picturesque scenery, from idyllic beaches to craggy canyons and mountains. They include busy thoroughfares such as the legendary Pacific Coast Highway as well as remote canyon hideaways. Although the technique of plein-air painting is over 100 years old, the art in this exhibition reveals that the style is flexible and resilient. Each artist has his or her own stylistic approach, creating works that seem fresh, new, vital, and personal to the artist.
More than 30 artists are represented in On Location in Malibu 2015. They live in areas throughout the state and range in experience from seasoned professionals to younger talents. All of these painters are acknowledged to be among the best representational artists working in the state today.
Art in the exhibition is available for purchase. Sales benefit the exhibiting artists, California Art Club, and the Frederick R. Weisman Museum of Art.
---
Image: Alexey Steele, Daybreak, oil on canvas, 30 x 60 inches