Frederick R. Weisman Museum Opens Environmental Reflections Exhibit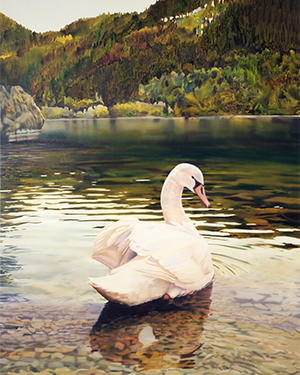 The Frederick R. Weisman Museum of Art will present Environmental Reflections: Contemporary Art from the Frederick R. Weisman Art Foundation from September 1, 2021, through December 5, 2021. While admission is free to the general public, advanced reservations for timed entry tickets are required. The exhibit was made possible through funding from the Frederick R. Weisman Art Foundation and an anonymous donor and curated by Billie Milam Weisman, director of the foundation.
"After a long time apart, we are excited to once again host an in-person exhibition at the Weisman Museum," says Rebecca Carson, managing director of the Lisa Smith Wengler Center for the Arts. "We are grateful to Billie Weisman and the Weisman Foundation for their many years of partnership and for their support of the many artists whose work is showcased in this stunning exhibition."
Environmental Reflections brings a diverse range of practices together to show fleeting glimpses of the human experience of nature. Through its broad spectrum of artistic approaches, the exhibition shows reverence for nature and its complexities by bringing attention to not only its grand changes but also its minuscule shifts.
Dawn DeDeaux illuminates the unusual beauty of mold growling along with tree bark and the symmetry that occurs in nature. In contrast, Kelly Berg addresses nature's intensity and powerful forces in her depiction of erupting volcanoes illuminating the sky. Srdjan Loncar's photographs create a massive sculptural wave demonstrating the power and depth of the ocean that continually touches land, wave after wave. The mysteries of the universe have captured the interest of artists throughout time: Chema Como imagines floating orbs in space, while Dawn DeDeaux depicts astronauts floating in the vacuum of space without control, high above the earth.
There is a quiet reverence in the solitude of nature in the work by Stephanus Heidacker, capturing a moment in which man is alone with nature. In Heidacker's work, a large imposing "young man" dominates the frame in a mountain landscape, reflecting the dueling concepts of the relationship between man and nature. In contrast, in Veronica Brovall's sculpture, the intricate and delicate connection between humans and nature is portrayed by a skeletal figure's service as the roots of a barren tree, making them so intimately connected that there is no distinct separation between the two.
An opening reception celebrating the exhibit will be held on Sunday, October 3, 2021, from 2 to 4 PM PT. To reserve tickets for the opening reception, please visit the event's reservation website.
To learn more about the exhibit and to reserve tickets, visit the Frederick R. Weisman Museum website.