Graduate School of Education and Psychology to Host 2017 Commencement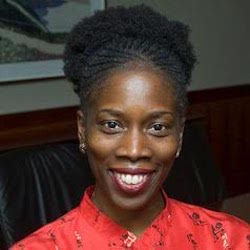 Commencement ceremonies for the two divisions of the Graduate School of Education and Psychology (GSEP) will take place at Alumni Park on the Malibu campus on Saturday, May 20.
The psychology division ceremony will take place at 10 AM and will be followed by the education division ceremony at 2:30 PM.
2017 Commencement Speakers
Thema Bryant-Davis (MDiv '16) is an associate professor of psychology at the Pepperdine Graduate School of Education and Psychology, where she teaches courses in trauma psychology and multicultural counseling. She is the founder and director of the GSEP Culture and Trauma Research Lab and has served as dissertation chair and chair of Pepperdine's Graduate and Professional Schools Institutional Review Board. She also maintains a private practice in clinical psychology.
Prior to coming to Pepperdine, Bryant-Davis was a faculty memberat California State University, Long Beach. She has also been the American Psychological Association's (APA) representative to the United Nations; president of the Society for the Psychology of Women; and director of Princeton University's SHARE program, a program addressing trauma through counseling, education, and advocacy.
Bryant-Davis has been cited for her distinguished contributions to the profession by both the APA and the California Psychological Association. Essence magazine named her among "women who are shaping the world." She has also served as a mental health consultant for several media outlets including news programs, print media, radio, and documentaries.
An active member of the African Methodist Episcopal Church fellowship, she has shared her gifts of caring and compassion as coordinator of mental health services at First AME Church and Walker Temple AME Church, both in Los Angeles.
Bryant-Davis received her BA, MA, and PhD from Duke University. She completed her MDiv at Pepperdine in 2016.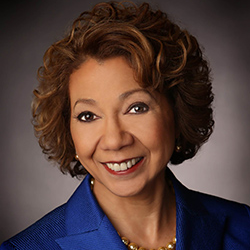 Mildred García is president of California State University, Fullerton, the third-largest university in California, serving more than 40,000 students with an operating budget of almost half a billion dollars. Since becoming president in 2012, Cal State Fullerton's six-year graduation rates have seen a 24-percent improvement; the achievement gap has been eliminated for transfer students and cut in half for first-time, first-year students; and the institution is now ranked first in California in awarding bachelor's degrees to Latinos, as well as sixth in the nation in graduating students of color.
An educator first and foremost, García began her career as afaculty member and built a foundation for her now internationally recognized student-centered, inclusive, and transparent leadership style.She is passionate about fostering increased academic access and success, particularly for underrepresented, first-generation, and low-income students from all backgrounds. García is a first-generation college graduate herself and the first Latina president to serve in the country's largest system of higher education.
A recipient of myriad awards—from the American Council on Education's Reginald Wilson Diversity Leadership Award to being named a Distinguished Alumni Honoree of Columbia University—García was appointed by President Obama to serve on the President's Advisory Commission on Educational Excellence for Hispanics, a position she has served with distinction since 2011.
García received her AAS from New York City Community College; her BS in business education from Baruch College, City University of New York; her MA in business education and higher education from New York University; and her MA in higher education administration and her EdD from Columbia University.
2017 Distinguished Alumni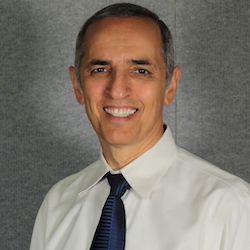 Jack Gershfeld (MA '10) is a licensed therapist who counsels individuals, couples, and families through his private practice entitled Couples TLC, Emotionally Focused Therapy, located in Fullerton, California. Gershfeld is a lifetime member of the International Centre for Excellence in Emotionally Focused Therapy and is involved in presenting workshops on couples' relationships. He is an adjunct faculty at GSEP, where he teaches behavioral modification and research methods.
As a professional electrical engineer and technology entrepreneur, Gershfeld is the founder and chief executive officer of Altinex, Inc., headquartered in Brea, California. Founded in 1993, Altinex develops and manufactures products for the audiovisual industry. The company's products have been used in retail, entertainment, educational, corporate, and military applications throughout the world.
Prior to Altinex, he founded two other startup companies, Inline, Inc., and Extron Electronics. Before that, he held the position of electronic engineer with Conrac. He holds more than 40 technology patents.
Gershfeld received his BS and MS in electrical and electronic engineering from California State Polytechnic University, Pomona. He received his MA in clinical psychology from the Graduate School of Education and Psychology in 2010.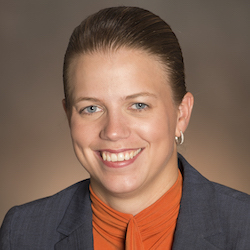 Kathleen A. Plinske (EdD' 08) is the campus president of Osceola, Lake Nona, and Poinciana campuses for Valencia College, a multi-campus community college in Florida with locations throughout the greater Orlando and Kissimmeeareas.
Since taking on the duty of campus president, Plinske has grownthe enrollment of her campuses by 25 percent, led the design and planningof the Poinciana campus (to open this fall), collaborated on launching the multi-agency "Got College?" initiative to increase the college attendance rate of Osceola County, launched four new degree programs, and saw two seven-figure grants awarded for infrastructure and program support.
Prior to assuming her current appointment, Plinske held a number of administrative and teaching positions at McHenry County College in Illinois. She has been adjunct faculty at Valencia College, the University of Central Florida, Indiana University, and Pepperdine University.
Plinske is a recipient of numerous awards and accolades, including becoming an Aspen Presidential Fellow for Community College Excellence, receiving the Hispanic Community Champion Award from the Hispanic Chamber of Metro Orlando, and being named Woman of the Year among Orlando Business Journal's "40 Under 40" for 2012. Some of her current community involvements include the Rotary Club of Lake Nona (where she has served as president and vice president) and board membership with CareerSource Central Florida and the Kissimmee/Osceola Chamber of Commerce.
Plinske received her BA in Spanish and physics from Indiana University. She received her MA in Spanish from Roosevelt University andher MBA from the University of Florida. In 2008 she received her EdD in educational technology from the Graduate School of Education and Psychology.
For additional information, visit the Graduate School of Education and Psychology Graduation website.