Graduate School of Education and Psychology Students Educate Local Middle School Community About Bullying Prevention Methods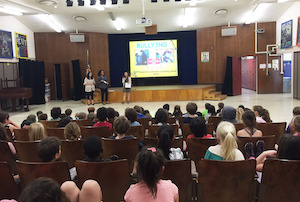 Through a multi-year partnership between the Pepperdine University Encino Community Counseling Center and Gaspar de Portola Middle School in neighboring Tarzana, California, students in the marriage and family therapy and doctor of psychology in clinical psychology (PsyD) programs at the Graduate School of Education and Psychology (GSEP) have been providing psychoeducation to the young students and their parents about bullying symptom identification and prevention, middle school anxiety and treatment options, and mindful parenting techniques. As part of a psychology course taught by Anat Cohen, clinical professor and director of the GSEP community counseling center, these hour-long sessions have been hosted as virtual assemblies throughout the coronavirus pandemic.
According to stompoutbullying.org—America's leading bullying and cyberbullying prevention organization for children and teenagers—increased interactions with smartphones and social media platforms during the pandemic have provided bored and distressed children who previously bullied their peers with opportunities to incite cyberbullying. This is especially true for children who have trouble sleeping and are seeking to engage in activities to fill their free time.
"Our data show that discipline referrals, including incidents of bullying, have decreased since the inception of the partnership. In one to two weeks following the anti-bullying assemblies, students have been more likely to approach their counselors for help with bullying and other mental health issues," reveals Farnaz Kerendi, the parent and community engagement coordinator at Portola Middle School. Kerendi shares that the program's focus on bullying prevention has noticeably encouraged students to report their friends' concerning and dangerous behaviors that they have displayed, including acts of self-harm, as a direct result of being bullied.
GSEP's PsyD student Anna Grigorian-Routon explains that studies demonstrate that more than 35 percent of middle school students report being bullied or cyberbullied, with victims frequently being ethinic or racial minorities, members of the LGBTQ+ community, and those with special needs. Only about 30 percent of bullying is reported to adults, who are typically informed of the situation through contact from school administrators and teachers. Research also suggests that children who are involved in extracurricular activities and social hobbies tend to experience better mental health outcomes, as participation in these other avenues makes bullying a smaller part of their lives and reduces its impact.
"Parents should be aware that with the prevalence of computer and social media use, children can be bullied online 24 hours a day," Grigorian-Routon warns. "It is a good idea for parents to keep communication open and encourage their children to share their successes and struggles prior to any potential bullying concerns, which can build a foundation of trust, support, and validation that helps children come to their parents with problems without fear of punishment." She also notes that a nurturing home environment with involved parents reduces the likelihood that their child will bully others.
Grigorian-Routon emphasizes that experiencing bullying results in many lifelong mental health repercussions, including depression, anxiety, poor self-esteem, suicidal behaviors, and conduct problems. In fact, children who were bullied are 2.4 times more likely to report suicidal ideation and 3.3 times more likely to report suicide attempts.
Victims of bullying are more likely to report feelings of low self-esteem and isolation, perform poorly academically, have few friends, maintain a negative view of school, experience psychosomatic issues, and report mental health problems.
Those who bully, she says, are also at an increased risk for mental health problems throughout their adolescence and adulthood, and according to a 2015 report by the Centers for Disease Control and Prevention, perpetrators of bullying are at an increased risk for substance use, academic problems, and violent behavior in adolescence and adulthood.
Alumna and current PsyD student Lauren Broussard (MA '17) explains that 49 percent of children in grades 4–12 reported being bullied by other students at school at least once during the past month, and that about 20 percent of students ages 12–18 experienced bullying nationwide. "Through this project, we aim to provide the necessary steps in addressing a growing societal issue," she says. "These outreach presentations help educate students, parents, and school administrators, which empowers them to take action against bullying. By introducing psychoeducation early on to middle school students, it could potentially mitigate the effects of bullying."