GRAMMY Award-Winning A Cappella Group Take 6 to Perform Christmas Concert at Lisa Smith Wengler Center for the Arts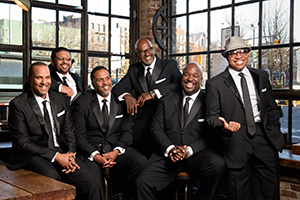 On Wednesday, December 15, 2021, at 8 PM, Take 6 will bring extraordinary voices and holiday spirit to Smothers Theatre at Pepperdine University in Malibu, California. Take 6's voices—Claude McKnight, Mark Kibble, Joel Kibble, Dave Thomas, Alvin Chea, and Khristian Dentley—unite in crystal clear harmony against a backdrop of syncopated rhythms, innovative arrangements, and funky grooves that bubble into an intoxicating brew of gospel, jazz, R&B, and pop.
Recognized as the pre-eminent and most awarded a cappella group in history, Take 6 boasts 10 GRAMMY Awards, 10 Dove Awards, 2 NAACP Image Awards, a Soul Train Award, and an induction into the Gospel Music Hall of Fame. Their talent has held the torch as popularity for a cappella and vocal competitions has grown through The Sing Off, Glee, and Smash. The group's faith, friendship, respect, and love of music remains at the heart of each of their electric performances
For more information and to purchase tickets, visit the event page on the Center for the Arts website. Patrons should be prepared to purchase tickets in advance and show their tickets at the campus entry gate.