GRAMMY Museum Exhibition Gives Behind-the-Scenes Look at Exclusive Moments Backstage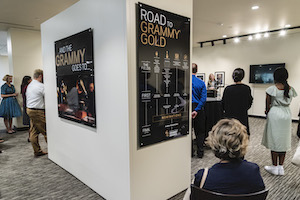 Through a partnership between Pepperdine University and the GRAMMY Museum® University Affiliates program, the And The GRAMMY Goes To . . . exhibition will be on display in the Exhibit Gallery at Payson Library in Malibu through December 15. Unveiled during an opening reception on September 5, the exhibition, curated by the GRAMMY Museum L.A. LIVE, features a selection of official posters alongside portraits taken backstage by internationally recognized photographer Danny Clinch, as well as a behind-the-scenes video of Clinch at work.
"We are thrilled to host this vibrant exhibit in Payson Library," said Mark Roosa, dean of libraries at Pepperdine University. "With its celebration of both the visual and performing arts, And the GRAMMY Goes To . . . encapsulates the spirit of creativity and collaboration that this exciting new partnership represents."
Coordinated by Pepperdine Libraries on behalf of the University, the affiliate partnership with the GRAMMY Museum builds on a tradition of creative excellence at Pepperdine. Every year the University hosts a robust selection of musical, theatre, and dance performances through the Lisa Smith Wengler Center for the Arts. The University's faculty includes renowned classical guitarist and GRAMMY nominee Christopher Parkening, who leads Pepperdine's classical guitar program. Additionally, notable alumni include GRAMMY-winning singer and 10-time nominee Brandy as well as 2007 GRAMMY Award-winning soprano Jessica Rivera.
Upcoming partnership events scheduled throughout fall 2019 include a roundtable discussion on the Music Modernization Act to take place at the GRAMMY Museum at L.A. LIVE on Thursday, October 17, career panels and internship opportunities for students, and professional development sessions for educators organized in partnership with Pepperdine's undergraduate and graduate teacher education programs at Seaver College and the Graduate School of Education and Psychology.
For more information about the GRAMMY Museum partnership.