Graziadio Business School Celebrates Class of 2021 with In-Person Commencement Ceremonies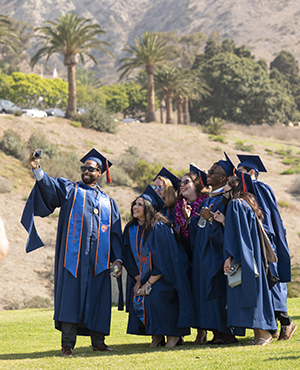 The Graziadio Business School celebrated more than 600 graduates of the Class of 2021 over the course of three ceremonies on August 13 and August 14, 2021. The first ceremony on August 13 honored 418 graduates from the part-time program. In the morning of August 14, 121 full-time program graduates walked the commencement stage. The executive programs closed out the weekend of celebrations in the afternoon of August 14 with 77 graduates commemorating their achievements.
After the 2020 ceremonies were postponed due to the COVID-19 pandemic, Pepperdine worked closely with public health officials to provide in-person commencement events while safeguarding the health and safety of graduates, their guests, and the community. Each ceremony was livestreamed for graduates or their guests unable to attend the ceremony in person.
During the ceremonies, Deryck J. van Rensburg, dean of Graziadio Business School, presented three alumni—Brett M. Johnson (MBA '05), Andy Kubitz (MBA '11), and Christa Z Workman ('97, MBA '00, JD '01)—with the Distinguished Alumnus Award. Each alumnus gave inspiring addresses to graduates as they enter new stages in their lives equipped with even greater knowledge. Additionally, the Class of 2021 student speakers included Chintan Upadhyaya, Philippe Thibault, and Sharifa Batts.
Graziadio's three ceremonies bookended the summer season of commencements that began in May 2021 with in-person ceremonies for the Caruso School of Law, Seaver College, and the School of Public Policy and a virtual celebration for the Graduate School of Education and Psychology.