Graziadio Business School to Host 2019 Future of Healthcare Symposium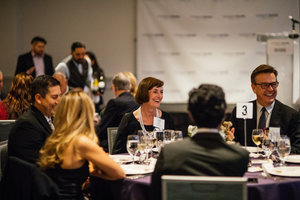 Pepperdine Graziadio Business School will present The Future of Healthcare Symposium at The Ritz-Carlton, Marina del Rey, on Thursday, March 21, from 8 AM to 4 PM.
The 2019 theme, "Healthcare Leadership in the AI Revolution: Opportunity in the Smart Machine Age," will explore the industry changes that are required to navigate the smart machine age and the introduction of artificial intelligence to the healthcare space.
Eric Topol, one of the leading innovators in medicine, and Jeff Stibel, former chief executive officer of web.com and vice chair of Dun & Bradstreet, will serve as this year's keynote speakers.
Topol is a cardiologist and geneticist specializing in the use of artificial intelligence and smart technology in the practice of individualized medicine. He is the founder and director of the Scripps Translational Science Institute, and the executive vice president of the Scripps Research Institute where he serves as a professor of molecular medicine.
Stibel is a USA Today columnist and a New York Times bestselling author of Breakpoint and Wired for Thought. He was the recipient of a brain and behavior fellowship while studying for a doctorate at Brown University and received an honorary doctorate from Pepperdine Graziadio Business School.
Founded by the Figueroa Family and organized annually by the Pepperdine Graziadio Board, The Future of Healthcare Symposium brings together influential thinkers and experienced practitioners to discuss the technological, ethical, or controversial innovations and challenges facing today's ever-evolving healthcare sector.
General admission tickets are $150. For additional information about this annual event, and to register to attend, visit the Graziadio Business School page on the Engage website.