Graziadio Business School to Host Summer 2018 Commencement
The Pepperdine Graziadio Business School summer 2018 commencement ceremony will take place at Firestone Fieldhouse on the Malibu campus on Saturday, August 11, at 10:30 AM.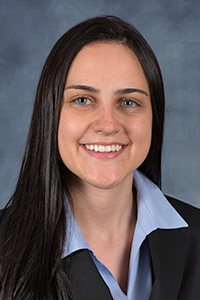 Margarita Lovinska will serve as the student speaker at the ceremony. The event will also honor Oscar Munoz (MBA '86) as the recipient of this year's Distinguished Alumnus Award.
Lovinska earned her bachelor's degree in mathematics with two minors—entrepreneurship and business management—at Nova Southeastern University in Fort Lauderdale, Florida. As an undergraduate student, Lovinska developed a keen interest in applying mathematics to business settings, and she moved to Los Angeles to participate in the MS in applied analytics program at Graziadio Business School.
In addition to her studies and a web internship in the Graziadio School marketing department, Lovinska worked on several research projects with professor of decision sciences Samuel Seaman, including analyzing potential gender wage gaps in the veterinary field. She was also involved in many student organizations at Pepperdine, including the Analytics and Digital Innovation Club and the Graziadio Entertainment Society. While serving on the board of the Pepperdine Net Impact chapter, Lovinska was a co-director of Impact Week, a new event focusing on environmental sustainability, racial diversity, and equality.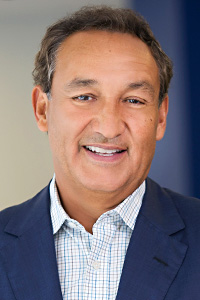 Munoz joined United Airlines, Inc. as chief executive officer in September 2015, having previously served as a member of its board of directors since the merger of United Airlines and Continental Airlines in 2010.
Under his leadership, United Airlines has achieved strong financial and operational success, with its stock rising by 20 percent during his first two and a half years at the helm. In 2017 the airline grew faster than the industry as a whole while also delivering record operational performance, including the highest percentage of on-time departures for any major US airline.
During his tenure, United Airlines has garnered accolades for its focus on developing its management and culture, earning one of Glassdoor's Employees' Choice Awards in 2018 as one of the best places to work. Munoz came to United Airlines from the CSX Corporation, where he served as president and chief operating officer from 2012 to 2015. Previously, he held executive positions at the Coca-Cola Company, PepsiCo, and AT&T.
In 2016 Fortune magazine named Munoz among the top 20 CEOs in its Businessperson of the Year list. Munoz has also been recognized personally by Hispanic Business magazine, which twice placed him on its 100 Most Influential Hispanics list.
He currently serves on the Washington, DC-based Business Council and Business Roundtable, the Partnership for New York City, the Economic Club of Chicago, and on the board of directors of World Business Chicago. He is also a member of the University of Southern California's board of trustees and a former advisory board member for Vanderbilt University's Parents & Family Association. During the devastating series of storms in the United States in 2017, Munoz coordinated United Airlines' unprecedented response, raising and matching millions of dollars in relief funds as well as operating dozens of humanitarian flights that delivered vital goods and supplies to impacted communities in Texas, Florida, and Puerto Rico.
Munoz holds a bachelor's degree in business administration from the University of Southern California. In 1986 he earned his master of business administration degree from Graziadio Business School.
For additional information about the commencement ceremony, visit the Graziadio Business School website.
For those unable to attend, the ceremony will also be broadcast live on the Pepperdine University Livestream website.