Graziadio School of Business and Management to Host December 2016 Commencement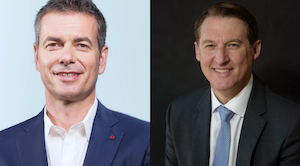 The Pepperdine University Graziadio School of Business and Management fall 2016 commencement ceremony will take place at Firestone Fieldhouse on the Malibu campus on Saturday, December 10, at 10:30 AM.
The event will honor Robert Kyncl (MBA '97) as the recipient of this year's Distinguished Alumnus Award. Deryck J. van Rensburg, the new dean of the Graziadio School, will deliver the commencement address to graduates.
Kyncl is the chief business officer for YouTube, the world-renowned video-sharing website headquartered in San Bruno, California. In this role, Kyncl oversees all business functions including content, sales, marketing, platforms, access, and strategy. Founded in 2005 by three former PayPal employees, the company was subsequently purchased in 2006 by Google for around $1.65 billion.
Prior to joining YouTube, Kyncl was vice president of content at Netflix—the leading global Internet television network providing streaming media, online video on demand, and DVD rentals by mail. At Netflix, he spearheaded the company's content acquisition for streaming TV shows and movies over the Internet.
Kyncl has been listed in Variety's Dealmakers Impact Report as one of its "disruptors." Vanity Fair has named him to its New Establishment List. Billboard magazine has recognized him on several of its lists, including the Power 100 List, the International Power Players List, and the Digital Power Players List. Adweek also names him on its Adweek 50 List of Vital Leaders in Tech, Media, and Marketing.
In 2012 he was honored for his commitment to CoachArt, a nonprofit organization serving the Greater Los Angeles and Bay areas that provides arts and athletic lessons for children with chronic and life-threatening illnesses.
Kyncl received his bachelor's degree in international relations from State University of New York at New Paltz. In 1997 he received his master of business administration degree from the Graziadio School.
Van Rensburg is the ninth dean of Pepperdine University Graziadio School of Business and Management. Previously, he served as president of global ventures at The Coca-Cola Company. He began his leadership of the Graziadio School on November 1, bringing to the role 32 years of global business experience across eight countries. His expertise includes general management, strategic entrepreneurship and venturing, and organizational leadership and renewal across cultures.
As president of global ventures at The Coca-Cola Company, van Rensburg was responsible for identifying and developing emerging beverages, incubating internal innovation, and sourcing external growth through acquisition, entrepreneurial partnerships, and equity investments. His previously held positions at The Coca-Cola Company also include president of the German and Nordic Division and president of the Southeast Europe and Gulf Division. His work was featured in the 2009 CNBC original documentary Coca-Cola: The Real Story Behind the Real Thing.
In 2011 he was nominated by Advertising Age magazine as one of their 21 Influencers reshaping media and marketing. Before joining The Coca-Cola Company, he worked at Unilever PLC, where he held various marketing roles in the United Kingdom and South Africa.
Van Rensburg received his master of business administration degree with distinction from University of Bath in England, and he holds a doctor of business administration degree from the University of Manchester. A continuous learner, he has also attended executive management programs at Harvard, Wharton, Berkeley, and Emory business schools.
For additional information about the ceremony, visit the Graziadio Commencement website. For those unable to attend, the ceremony will also be broadcast live on the Pepperdine University Livestream website.