Guitarist Bill Frisell to Perform Concert at Pepperdine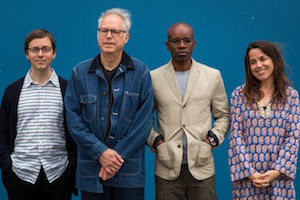 Singer-songwriter Bill Frisell will perform music from his newest pop culture-inspired project "When You Wish Upon a Star" at Pepperdine University's Smothers Theatre in Malibu on Tuesday, January 22, at PM. The show will feature musicians Petra Haden, Thomas Morgan, and Rudy Royston.
Frisell's career as a guitarist and composer has spanned more than 35 years and many celebrated recordings. His catalog has been cited by Downbeat as "the best recorded output of the decade," including his recent albums for Savoy—Sign of Life with the 858 Quartet; Beautiful Dreamers; All We Are Saying, a collection of John Lennon interpretations; and his debut release for OKeh/Sony Masterworks, Big Sur, featuring music commissioned by the Monterey Jazz Festival and composed at the Glen Deven Ranch in Big Sur, for strings, guitar, and drums in a quintet featuring long-time musical associates.
His current tour, When You Wish Upon a Star, is based on his newest Grammy-nominated album of the same name (released 2016), a project that developed at Lincoln Center during Frisell's two-year appointment as guest curator for the Roots of Americana series (September 2013–May 2015). In When You Wish Upon a Star, Frisell draws upon the classic music from film and television we have heard on screen and how it shapes and informs our emotional relationships. The album features Frisell with vocalist Petra Haden, Eyvind Kang (viola), Thomas Morgan (bass) and Rudy Royston (drums) performing Frisell's arrangements and interpretations of iconic music, including re-imaginings of time-honored gems such as "To Kill a Mockingbird," "Moon River," "You Only Live Twice," the theme from "Bonanza," and more. The touring version of the band includes Haden, Morgan, and Royston. Jazz Times lauded the album for its "unforgettable themes…reconfigured with ingenuity, wit, and affection by Frisell and a terrific group."
Frisell's other the Grammy-nominatedalbum, Guitar in the Space Age! (2014), is an homage to the inspirational popular music of his formative years made in the wake of the birth of the Fender Telecaster guitar. Frisell and his band mates explore material on the Okeh/Sony Masterworks release associated with the Beach Boys, Junior Wells, Pete Seeger, the Byrds, Duane Eddy, the Ventures, the Kinks, Chet Atkins, Link Wray, Speedy West & Jimmy Bryant, the Astronauts, Merle Travis, Johnny Smith, and others, as well as original material by Frisell.
Frisell's Nonesuch output spans a wide range of musical expression, from original Buster Keaton film scores, to arrangements for extended ensembles with horns and strings (Blues Dream, History, Mystery, Unspeakable); collaborations with bassist Viktor Krauss and drummer Jim Keltner (Gone, Just Like a Train, Good Dog, Happy Man); an album with Nashville musicians (Nashville), a solo album (Ghost Town), a collection of traditional American folk songs and originals inspired by them (The Willies), and two trio albums with jazz legends Dave Holland/Elvin Jones and Ron Carter/Paul Motian. The Intercontinentals blends Frisell's brand of American roots music with Brazilian, Greek, and Malian influences. Disfarmer was inspired by the work of the mid-century rural Arkansas photographer Mike Disfarmer.
Recognized as one of America's 21 most vital and productive performing artists, Frisell was named an inaugural Doris Duke Artist in 2012. He is also a recipient of grants from United States Artists, and Meet the Composer, among others. Upon San Francisco Jazz opening their doors, he served as one of their Resident Artistic Directors. Most recently, Frisell was commissioned to compose and perform a new composition in San Francisco by the Freshgrass Festival.
Ticket prices range between $10 and $45, and are required for attendance. For additional information about this performance, and to purchase tickets, visit the Center for the Arts website.