Head Coach Emeritus Marv Dunphy to Receive Frier Award from USA Volleyball Hall of Fame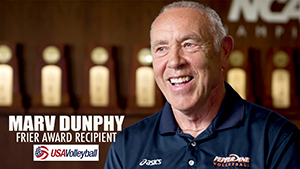 USA Volleyball announced Marv Dunphy ('74), head coach emeritus at Pepperdine University, as the 52nd winner of the Harold T. Friermood "Frier" Award. The award, known as USA Volleyball's highest honor, recognizes Dunphy's significant accomplishments to the volleyball sporting world throughout his decades-long coaching career.
"I'm tremendously honored to have been selected for this award," Dunphy said. "The most significant aspect for me in receiving the Frier Award is that he was one of the main individuals to get volleyball into the Olympics, and I was a beneficiary of his efforts."
During his tenure at Pepperdine, Dunphy led the Waves to four NCAA championships. A total of 45 Waves were collectively named All-Americans 75 times. Eleven athletes who played under his coaching at Pepperdine went on to play in the Olympics, six of whom won gold medals.
His legendary coaching also led the USA Men's team to gold at the 1988 Olympics. He has served as an assistant coach, a consultant coach, or a scouting coach for seven more Olympics with four teams earning medals. Most recently, he served alongside the US Women's team at the Tokyo Olympics as they earned their first-ever gold.
Dunphy holds several career honors. He was inducted into the Southern California Indoor Volleyball Hall of Fame in 2017, the Pepperdine Athletics Hall of Fame in 2010, the American Volleyball Coaches Association Hall of Fame in 2009, and the International Volleyball Hall of Fame in 1994. He received a US Olympic Achievement Award in 2011, an All-Time Great Coaches Award from the International Volleyball Federation in 1999.
To learn more about the award and Dunphy's career, visit the Pepperdine Waves website.