Helen Easterling Williams to Conclude Tenure as Graduate School of Education and Psychology Dean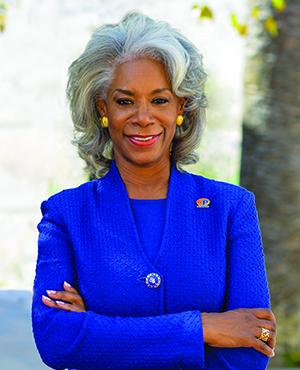 Helen Easterling Williams, who has served Pepperdine University as dean of the Graduate School of Education and Psychology (GSEP) since 2014, will conclude her tenure, effective August 1, 2022. Following a sabbatical, Williams will begin a period of service to the University as a vice chancellor before returning to the GSEP faculty.
"Dean Williams has stewarded the pursuit of academic excellence at the Graduate School of Education and Psychology guided by her commitment to collaboration, kindness, and grace," says Pepperdine provost Jay Brewster. "Helen's deep Christian faith fuels her passion for Pepperdine's mission and continues to make a positive impact on our community. I look forward to working closely with her on new and exciting institutional initiatives in the future."
Under Williams' leadership, GSEP has made important strategic advances in traditional and online instruction, achieved material enrollment expansion, strengthened scholarship support, and meaningfully advanced the University's mission of service at the school. Among countless other achievements, she led the launch of multiple new education and psychology degree programs, including the accreditation and implementation of the University's first PhD program in 2016, as well as the school's first fully online degree program in partnership with global education leader 2U.
"Helen's thoughtful, innovative, and compassionate approach built a strong administration that elevated the Graduate School of Education and Psychology while strengthening Pepperdine University on its journey to becoming a preeminent, global Christian university," says president Jim Gash. "Over the last several years, I have been blessed to have planned and prayed alongside Dean Williams. I am excited to continue on to the next chapter as colleagues and dear friends."
With nearly three decades of higher education leadership, Williams previously held the deanship at the School of Education at Azusa Pacific University, where she successfully led school reaccreditation efforts and initial accreditation for the school's psychology program, established its emerging technology center, and developed an international visiting scholar program. A widely recognized leader in higher education in Southern California, Williams was named 2019 Executive of the Year by the Los Angeles Business Journal Women Council.
The University will begin preparing for Williams' transition by appointing an interim dean and launching a nationwide search to identify her successor, engaging an executive search firm and an internal search committee chaired by Provost Brewster.